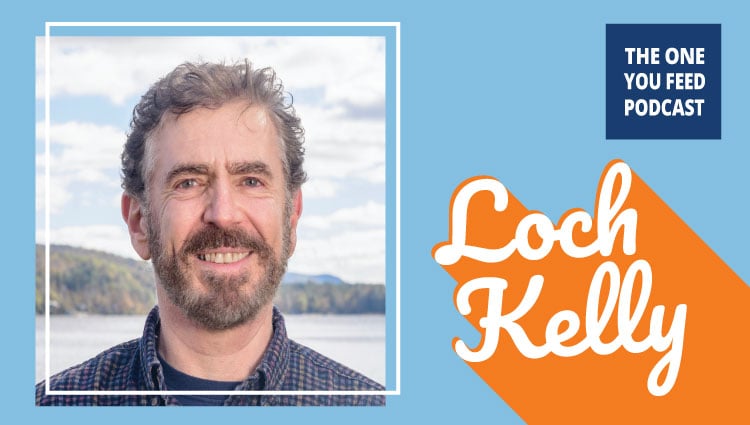 Loch Kelly is an author, meditation teacher, psychotherapist, and the founder of The Open-Hearted Awareness Institute. Loch works to help people access awakening as the next natural stage of human development. by offering in-person retreats, workshops, and online video and audio courses. He has served on the New York Insight Teachers Council and has collaborated with neuroscientists at Yale, U Penn and NYU in the study of how awareness training can enhance compassion and well being. Loch also studied extensively with Mingyur Rinpoche and was invited to teach direct realization by Adyashanti. As a licensed psychotherapist, Loch has been teaching seminars, supervising clinicians and practicing awareness psychotherapy in New York City for 30 years. His latest book is called, The Way of Effortless Mindfulness: A Revolutionary Guide for Living an Awakened Life.
Need help with completing your goals in 2019? The One You Feed Transformation Program can help you accomplish your goals this year.
But wait – there's more! The episode is not quite over!! We continue the conversation and you can access this exclusive content right in your podcast player feed. Head over to our Patreon page and pledge to donate just $10 a month. It's that simple and we'll give you good stuff as a thank you!
In This Interview, Loch Kelly and I discuss Effortless Mindfulness and…
The good wolf & the bad wolf: how there are no "bad" parts of us
Feed the one who is aware of the two wolves
How he defines "effortless mindfulness"
Flow consciousness
Deliberate mindfulness vs effortless mindfulness
Objects of consciousness vs the space that objects are in
Mindfulness is about awakening rather than it just being about stress management
Relieving suffering at it's root
Small glimpses, many times and the practice of the "small glimpses" techniques.
Dropping from head mind to heart mind
Non-dual awareness as well as Awareness-based knowing
---
Loch Kelly Links:
Daily Harvest – Delivers absolutely delicious organic, carefully sourced, chef-created fruit and veggie smoothies, soups, overnight oats, bowls and more. To get $25 off your first box, go to www.dailyharvest.com and enter promo code FEED
SoFi Invest: A platform that makes investing easy by offering stocks, crypto & automated investing all in one. With access to their financial advisors to answer any questions you have at no cost. Go to www.sofi.com/wolf, create an account, and they will give you $25 of free stock just for signing up.
Netsuite by Oracle: Netsuite by Oracle: the world's #1 cloud business system. Netsuite is a business software that handles every aspect of your business in an easy to use cloud platform. Get Netsuite's free guide, 7 Key Strategies to Grow Your Profits, by going to www.netsuite.com/wolf
---
If you enjoyed this conversation with Loch Kelly on Effortless Mindfulness, you might also enjoy these other episodes: