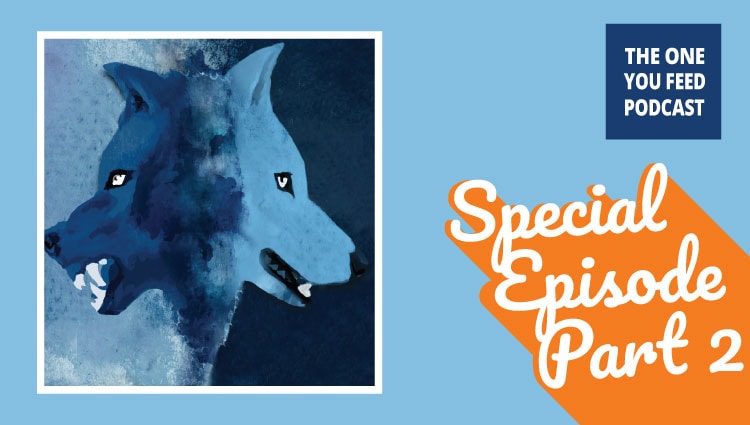 You can find all of the most up to date crisis help & support resources that Eric is making available through The One You Feed by going to www.oneyoufeed.net/help
As the COVID-19 pandemic intensified earlier this week, Eric reached out to several previous guests of the show to ask them if they would be willing to talk with him for two special edition episodes of The One You Feed Podcast. They all generously agreed at a moment's notice and this episode is the second of those two episodes. These mini-interviews are with 6 leaders in the realms of mental health and spirituality. Eric talks with each of them about how to deal with difficult thoughts and offers practical strategies for emotional health during these challenging times. These are all new conversations with previous guests, Parker Palmer, Mirabai Starr, Lewis Howes, Steven C. Hayes, Scott Stabile, and Sharon Salzberg.
In This Special Episode, We discuss Strategies for Emotional Health and…
Turning our attention to those who are vulnerable and need our help
The connection between anxiety and uncertainty
Accepting the truth that there are many things we cannot control
Being attentive to what we can control
How reflecting on and learning from suffering can be therapeutic
That dissolution is a good thing: You've lost an illusion and you're that much closer to reality
How to abide in a space of not knowing
The paradox of actively helping the situation by doing less, staying put and slowing down
Reorienting to what we really need vs. our tendencies towards overconsumption
How to be mindful and Feed Our Good Wolf during a time of crisis
That constantly seeing crisis media alerts is like seeing a car crash every 2 minutes – we benefit from placing boundaries on how often we consume media coverage
Creating meaning amidst suffering
How psychological flexibility can help us move through difficulty
How to move through a crisis so that you come out of it with post-traumatic growth
Ways to work with your anger towards others during this crisis
Ways to work with your fear about this crisis
The helpful pillars of self-care that can really support us in crisis
Looking for ourself in others to bring empathy
What it means to connect to our hearts and souls
The importance of giving yourself grace and forgiveness during a crisis
How loving-kindness meditation can help us
How staying home can mimic the effects of a reflective retreat
A guided meditation from Sharon Salzberg
Calm App The #1 rated app for meditation has meditations, sleep stories, soothing music, and Calm masterclasses with many One You Feed Guests. Get 40% off a Calm Premium Subscription (a limited time offer!) by going to www.calm.com/wolf 

Peloton: Wondering if a Peloton bike is right for you? You can get a free 30 day home trial and find out. If you're looking for a new way to get your cardio in, the Peloton bike is a great solution. Eric decided to buy one after his 30-day free trial. Visit onepeloton.com 
Laurel Springs: An accredited online private school for students K-12. Personalize the learning program and learning schedule for your unique child with Laurel Springs' diverse and enriched curriculum. Register your child at www.laurelsprings.com/wolf and receive a waived registration fee.
Links to Other Episodes: