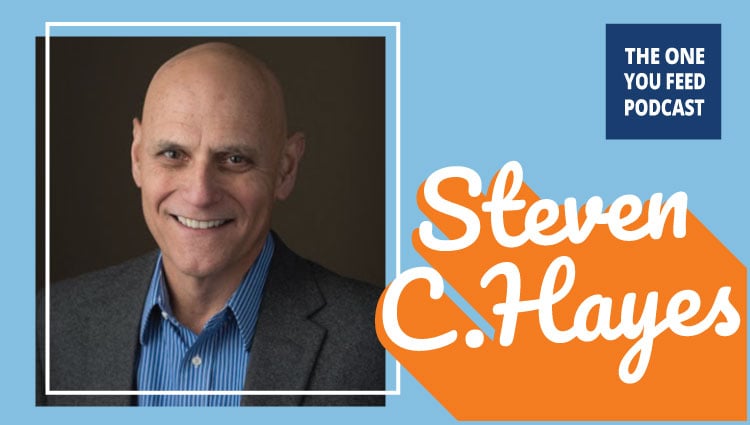 Steven C. Hayes is one of the founders of Acceptance and Commitment Therapy (ACT) and this is his second time on the show. This time, he and Eric discuss his new book, A Liberated Mind: How to Pivot Toward What Matters. Dr. Hayes is a Professor of Psychology at The University of Nevada Reno. He's the author of 43 books and more than 600 scientific articles. He's served as the President of the Association for Behavioral and Cognitive Therapy and The Association for Contextual Behavioral Science. He is one of the most cited psychologists in the world. In this episode, Dr. Hayes teaches what psychological flexibility is, how to cultivate it, and the ways in which it can improve your life.
Need help with completing your goals in 2020? The One You Feed Transformation Program can help you accomplish your goals this year.
But wait – there's more! The episode is not quite over!! We continue the conversation and you can access this exclusive content right in your podcast player feed. Head over to our Patreon page and pledge to donate just $10 a month. It's that simple and we'll give you good stuff as a thank you!
In This Interview, Steven C. Hayes and I Discuss Psychological Flexibility and…
Asking "What is the problem we're trying to solve?"
Understanding what you really care about. Take what you're really struggling with and flip it over, therefore allowing your pain to speak to you
The lengths we go to in order to protect ourselves from hurt
"Psychological Flexibility" vs "Psychological Rigidity"
6 processes or pivots that promote Psychological Flexibility
The masks we put on to try and connect with others and belong in addition to our true belonging
Pivoting from cognitive fusion to diffusion
Thoughts as ongoing attempts at meaning-making
The ability to think multiple things and be guided by what is useful
Living according to your values as well as the qualities of being and doing
Response Ability – deciding what this is about for you
Accepting what we feel and committing to act according to our values
---
Steven C. Hayes Links:
Feals: Premium CBD delivered to your doorstep to help you manage stress, anxiety, pain, and sleeplessness. Feals CBD is food-grade and every batch is tested so you know you are getting truly premium grade product. Get 50% off your first order with free shipping by becoming a member at www.feals.com/wolf
Daily Harvest: Delivers absolutely delicious organic, carefully sourced, chef-created fruit and veggie smoothies, soups, overnight oats, bowls and more. To get $25 off your first box go to www.dailyharvest.com and enter promo code FEED
Phlur: Get a luxurious scent made with transparent, clean ingredients. Eric created his own sampler set that you can try! Get this curated sampler set or create your own. Get 20% off your first Phlur sampler set at www.phlur.com/wolf
---
If you enjoyed this conversation with Steven C. Hayes on Psychological Flexibility, you might also enjoy these other episodes: