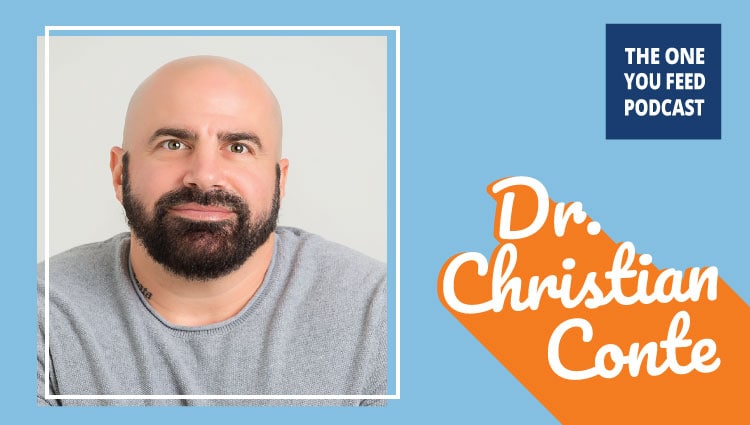 Dr. Christian Conte is one of the country's most accomplished mental health specialists in the field of anger and emotional management. He specializes in working in the prison system with people convicted of violent crimes. In this episode, he and Eric discuss his book, Walking Through Anger: A New Design for Confronting Conflict in an Emotionally Charged World. If this conversation about radical anger management rubs you the wrong way in the beginning, we invite you to get curious about your reaction and stay with the conversation – you may feel and think differently by the end of the episode.
You can find all of the most up to date crisis help & support resources that Eric is making available through The One You Feed by going to www.oneyoufeed.net/help
The wisdom and practice of self-compassion is a foundational principle that Eric teaches and helps his private clients learn to apply through the 1-on-1 Spiritual Habits Program. To learn more about this program, click here.
Need help with completing your goals in 2020? The One You Feed Transformation Program can help you accomplish your goals this year.
But wait – there's more! The episode is not quite over!! We continue the conversation and you can access this exclusive content right in your podcast player feed. Head over to our Patreon page and pledge to donate just $10 a month. It's that simple and we'll give you good stuff as a thank you!
In This Interview, Christian Conte and I discuss Radical Anger Management and…
His book, Walking Through Anger: A New Design for Confronting Conflict in an Emotionally Charged World
Working with our own anger
The relationship between our ego and our anger
Anger management
That our expectations influence our experience of the world
Hindsight bias
How anger is a wonderful motivator
That if we loosen our grip on being right, we can humble ourselves to receive other perspectives
The metaphor of only being able to see one side of the box
Switching to a position of curiosity
That certainty is an emotion, not a cognition
Leading humility and curiosity lessens the intensity of a situation
By saying, "here's what I'm seeing, please teach me about what you're seeing", you can change the energy of the conversation
How we can drain our own limbic system in the midst of feeling angry
What it means that our mind wants to match our body
Why he recommends that we go to bed angry (instead of following the old adage that says otherwise)
That when we understand something intellectually, we think we've mastered putting it into practice in our lives
That extreme language produces extreme emotions
How we're not disturbed by things – we're disturbed by our view of things
That certainty is at the heart of a lot of anger
Dr. Christian Conte Links:
Grammarly: The digital writing tool that you can rely on to get your message across clearly, effectively, and correctly. It works where you work: in Gmail, Google Docs, Slack and many other platforms. Get 20% off Grammarly Premium when you sign up at www.grammarly.com/feed
Clean Cult: Makes effective cleaners with non-toxic ingredients you recognize and packaging that's landfill-free. To get 25% off your first customized starter kit go to www.cleancult.com/wolf (this offer is good through May 30th, 2020)
Cryo-freeze CBD Roll-On by Omax Health: Quick, effective, and long-lasting relief from joint and muscle aches and pains. Enter promo code WOLF to get 20% off and free shipping of any Omax Health product at www.omaxhealth.com
If you enjoyed this conversation with Dr. Christian Conte on Radical Anger Management, you might also enjoy these other episodes:
Special Episode: How to Work with Anger