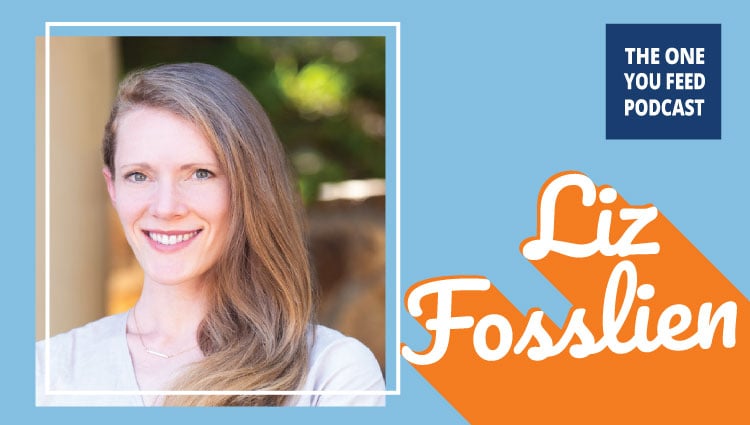 Liz Fosslien is the Head of Content and Editorial at Humu, a company that uses behavioral science to make work better. She leads interactive scientifically-backed workshops about how to create a culture of belonging to help remote workers avoid burnout, navigate different work styles, and effectively harness emotion as a leader. Her work has been featured by The New York Times, The Economist, and NPR. Liz is the co-author and illustrator of the book, No Hard Feelings: The Secret Power of Embracing Emotions at Work. In this episode, she and Eric dive into the important and fascinating topic of the role of emotions in the workplace. You may think being "cool, calm and collected" at work is the right way to be but after listening to this episode, you will likely think differently.

Need help with completing your goals in 2019? The One You Feed Transformation Program can help you accomplish your goals this year.
But wait – there's more! The episode is not quite over!! We continue the conversation and you can access this exclusive content right in your podcast player feed. Head over to our Patreon page and pledge to donate just $10 a month. It's that simple and we'll give you good stuff as a thank you!
In This Interview, Liz Fosslien and I Embracing Emotions at Work and …
How we underestimate the emotions we bring to work
Tools to help with embracing emotions in the workplace
How we make really bad decisions when we don't reference our emotions
The danger of being a "feelings fire hose" at work
The "Skill Swap" exercise at work
The New Rules of Emotion
Caring about yourself more than you care about your work
Your Support Network and your Challenge Network at work
Communicating what you need in the moment to another person
Social Distancing
Why we lack motivation at work
Relevant Emotions vs Irrelevant Emotions
---
Liz Fosslien Links:
The Great Courses Plus: Are you a life long learner? A perpetually curious person? The Great Courses Plus is an on-demand streaming service that offers courses taught by professors on a whole host of topics such as Human Behavior, Money Management Skills, Black Holes, the History of England and so much more. Listeners of the show get a full month of unlimited access to their library for FREE by signing up at www.thegreatcoursesplus.com/wolf
Peloton: Wondering if a Peloton bike is right for you? You can get a free 30 day home trial and find out. If you're looking for a new way to get your cardio in, the Peloton bike is a great solution. Eric decided to buy one after his 30-day free trial. Visit onepeloton.com and enter Promo code "WOLF" to get $100 off of accessories with the purchase of a bike, and a free 30 day home trial.
SoFi Invest: A platform that makes investing easy by offering stocks, stock bits, crypto & automated investing all in one. With access to their financial advisors to answer any questions you have at no cost. Go to www.sofi.com/wolf, create an account, and they will give you $25 of free stock just for signing up.
---
If you enjoyed this conversation with Liz Fosslien on Embracing Emotions at Work, you might also enjoy these other episodes: