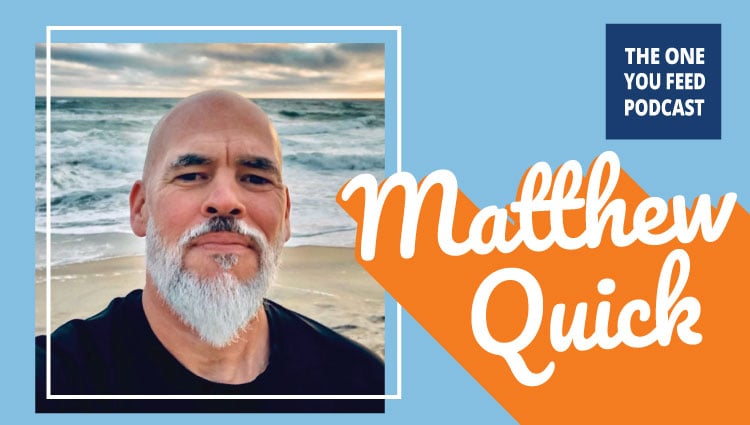 Matthew Quick is the New York Times bestselling author of The Silver Linings Playbook—which was made into an Oscar-winning film—and eight other novels. His work has been translated into more than thirty languages, received a PEN/Hemingway Award Honorable Mention, was an LA Times Book Prize finalist, a New York Times Book Review Editors' Choice, a #1 bestseller in Brazil, a Deutscher Jugendliteratur Preis 2016 (German Youth Literature Prize) nominee, and selected by Nancy Pearl as one of Summer's Best Books for NPR. The Hollywood Reporter has named him one of Hollywood's 25 Most Powerful Authors.
But wait, there's more! The episode is not quite over!! We continue the conversation and you can access this exclusive content right in your podcast player feed. Head over to our Patreon page and pledge to donate just $10 a month. It's that simple and we'll give you good stuff as a thank you!
Matthew Quick and I Discuss What We Can Learn From Our Bad Wolf and …
His book, We Are the Light
What drew him to Jungian analysis and his ideas on synchronicity
His healing journey and what he learned about himself
Learning to face his pain from a sober light
Losing access to a creative part of him when he stopped drinking
How his work with his analyst replaced the alcohol in his life
The importance of community
What the term "father hunger" means
His unique relationship with his analyst
How he learned to redeem his father
The important themes he covers in his latest novels
Doing the hard work in the second half of life
The respect he has developed for the craft of novel writing
Matthew Quick Links
Sign Up for Matthew's Monthly Personal Letter (MPL)
By purchasing products and/or services from our sponsors, you are helping to support The One You Feed and we greatly appreciate it. Thank you!
If you enjoyed this conversation with Matthew Quick, check out these other episodes:
Matthew Quick – 2017 Interview