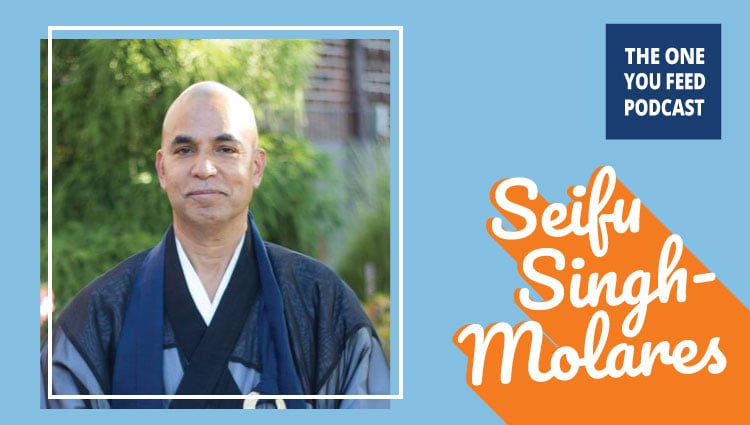 Reverand Seifu Singh-Molares is the Executive Director of Spiritual Directors International and an ordained Zen Buddhist Priest. He's a practicing Spiritual Director and Companion and motivational speaker. In a previous life, he was an executive at Microsoft where he successfully grew international groups and divisions and provided leadership to multicultural teams around the world.
In this episode, Eric and Seifu talk about the role of a Spiritual Director or Spiritual Companion in helping us find our way on our own spiritual path.
But wait – there's more! The episode is not quite over!! We continue the conversation and you can access this exclusive content right in your podcast player feed. Head over to our Patreon page and pledge to donate just $10 a month. It's that simple and we'll give you good stuff as a thank you!
In This Interview, Seifu Singh-Molares and I Discuss Spiritual Direction and …
That we have choices and we become our intentions
What the terms Spiritual Direction or Spiritual Companion means
The role of deep listening in Spiritual Direction
The intimate infinite
The difference between a Spiritual Companion and a Priest or Reverend
What goes on during a Spiritual Direction session
The role of relaxing into the unknowing to find our own way
Learning to live into and love the questions of our life
Finding authenticity in the world's great religions
The mystery of the truth that love permeates the universe
What the word spiritual means to him
The role of music in his spiritual journey
His experiential shamanic education
Seifu Singh-Molares Links:
BiOptimizers: Just 2 capsules of their Magnesium Breakthrough taken before bed gives you all 7 forms of magnesium so that you sleep better at night. Go to www.magbreakthrough.com/wolf and use the promo code WOLF10 at checkout to save 10%.
Ana Luisa Jewelry makes beautiful, high-quality, and sustainably crafted jewelry pieces that are also affordable! Visit analuisa.com/wolf and enter Promo code: WOLF for 10% off your purchase
If you enjoyed this conversation with Seifu Singh-Molares on Spiritual Direction, you might also enjoy these other episodes:
Scott Edelstein on Finding a Spiritual Teacher