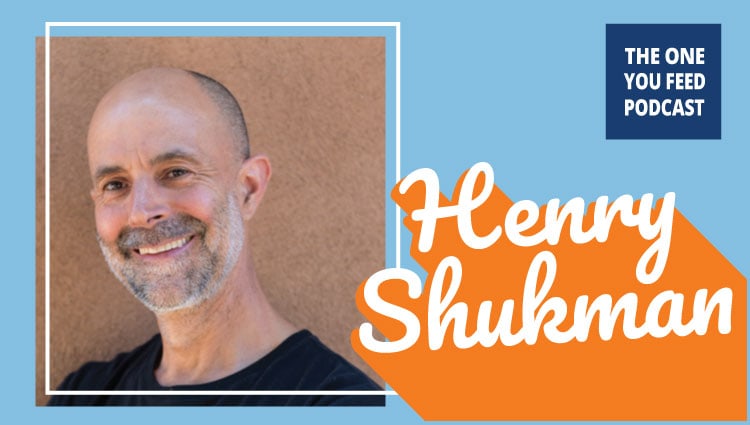 Henry Shukman is a poet, writer, and Associate Zen Master who lives in New Mexico where he teaches at Mountain Cloud Zen Center. He has published eight books to date of fiction, poetry, and non-fiction. He writes regularly for Tricycle, The New York Times, and other publications. In this episode, Eric and Henry discuss his beautifully written book, One Blade of Grass: Finding the Old Road of the Heart, a Zen Memoir.
You can find all of the most up to date crisis help & support resources that Eric is making available through The One You Feed by going to www.oneyoufeed.net/help
The wisdom and practice of self-compassion is a foundational principle that Eric teaches and helps his private clients learn to apply through the 1-on-1 Spiritual Habits Program. To learn more about this program, click here.
Need help with completing your goals in 2020? The One You Feed Transformation Program can help you accomplish your goals this year.
But wait – there's more! The episode is not quite over!! We continue the conversation and you can access this exclusive content right in your podcast player feed. Head over to our Patreon page and pledge to donate just $10 a month. It's that simple and we'll give you good stuff as a thank you!
In This Interview, Henry Shukman and I discuss Paths of Spiritual Awakening and…
How to work with the 3 poisons that we all have: Greed, Ill Will, Delusion
Opening up to pain (rather than turning away from it) so that we can heal
His experience with dysthymia
The awakening experiences he has had in his life
Learning how to be with his pain and wounds in order to heal
A major myth of meditation
How he knew he was ready to work with a spiritual teacher
His realization that awakening experiences are doorways and we must then step onto the paths they open up to in order to continue our spiritual growth
The value of community in spiritual growth
The trouble with thinking you have to do things alone
Discovering for ourselves the deep experience of the ordinary moments of our lives
The wisdom of cherishing the normal and finding beauty in ordinary things
Poetry as the practice of paying very close attention to things
The different levels of love
Henry Shukman Links:
Seed: Scientifically validated, next-generation probiotics. Their mission: to bring much-needed precision, efficacy, and education to the global probiotics market. Go to www.seed.com/wolf or use promo code WOLF for 15% off your first month of The Daily Symbiotic.
Clean Cult: Makes effective cleaners with non-toxic ingredients you recognize and packaging that's landfill-free. To get 25% off your first customized starter kit go to www.cleancult.com/wolf (this offer is good through May 30th, 2020)
Best Fiends: Engage your brain and play a game of puzzles with Best Fiends. Download for free on the Apple App Store or Google Play.
If you enjoyed this conversation with Henry Shukman on Paths of Spiritual Awakening, you might also enjoy these other episodes: