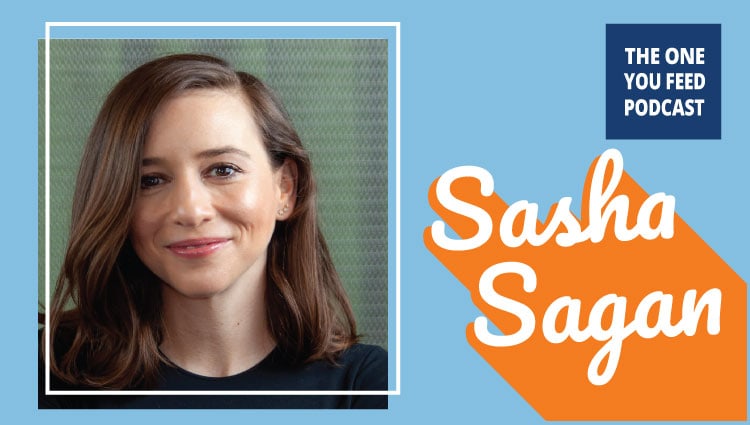 Sasha Sagan is a writer who has also worked as a television producer, filmmaker, editor, and speaker. Sasha's writing has appeared in New York Magazine, O Magazine, Literary Hub, and others. Her latest book is called, For Small Creatures Such As We: Rituals For Finding Meaning In Our Unlikely World.
In this episode, Sasha Sagan and Eric talk about bringing a sense of sacredness to a scientific world, maintaining our awe and wonder, and the role and importance of ritual in our lives.
But wait – there's more! The episode is not quite over!! We continue the conversation and you can access this exclusive content right in your podcast player feed. Head over to our Patreon page and pledge to donate just $10 a month. It's that simple and we'll give you good stuff as a thank you!
In This Interview, Sasha Sagan and I Discuss Science, the Sacred, and…
Maintaining our sense of awe even as we discover the explanations for things
Sitting with the discomfort of not knowing to foster wonder
Following our curiosity and having questions as we follow the threads to discovery
Going through the right of passage of an existential crisis
The fact that things end makes them precious
How so much of ritual is processing change
Ritual being a 3 step path from a state of separateness to a state of togetherness
The wisdom in having rituals that mark time
Creating rituals
The positive and negative of our human tendency to find patterns
Tolerating ambiguity
The need for nuance
Interconnectedness
Sasha Sagan Links:
BLUblox offers high-quality lenses that filter blue light, reduce glare, and combat the unhealthy effects of our digital life. Visit BLUblox.com and get free shipping and also 15% off with Promo Code: WOLF
Plushcare: Provides excellent primary and urgent healthcare through virtual appointments. It's easy to book online and you can even get same-day appointments. They accept most major insurance carriers, are available in all 50 states and you get prescriptions sent to your local pharmacy. Go to www.plushcare.com/wolf to start your free 30-day trial.
Calm App: The app designed to help you ease stress and get the best sleep of your life through meditations and sleep stories. Join the 85 million people around the world who use Calm to get better sleep. Get 40% off a Calm Premium Subscription (a limited time offer!) by going to www.calm.com/wolf
If you enjoyed this conversation with Sasha Sagan on Science and the Sacred, you might also enjoy these other episodes: