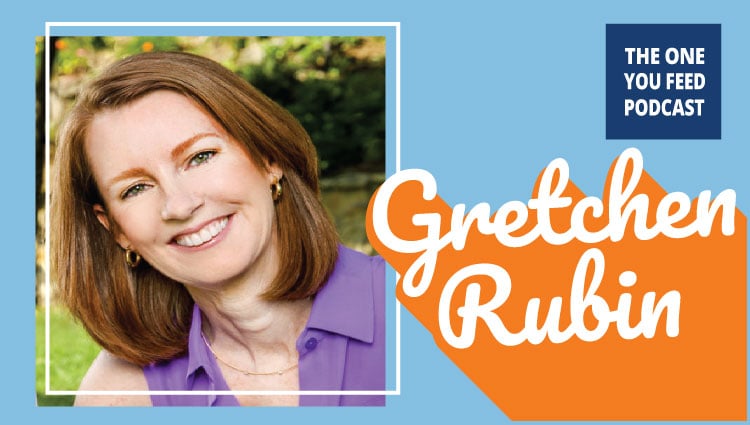 Gretchen Rubin is one of today's most influential and thought-provoking observers of happiness and human nature. Gretchen is known for her ability to distill and convey complex ideas with humor and clarity in a way that's accessible to a wide audience. She is the author of many books which have sold over 3.5 million copies worldwide in more than 30 languages. She also has an award-winning podcast, Happier with Gretchen Rubin. In this episode, Eric and Gretchen talk about living skillfully in regard to how being strategic and smart about the ways we approach our habits and behavior can radically impact our likelihood of success.
Need help with completing your goals in 2020? The One You Feed Transformation Program can help you accomplish your goals this year.
But wait – there's more! The episode is not quite over!! We continue the conversation and you can access this exclusive content right in your podcast player feed. Head over to our Patreon page and pledge to donate just $10 a month. It's that simple and we'll give you good stuff as a thank you!
In This Interview, Gretchen Rubin and I Discuss Living Skillfully and…
How feeding our bad wolf can feel easier sometimes
How not eating sugar actually makes her feel better
Abstainers and Moderators
Trying different approaches until you find the one that works for you
Decision fatigue
The 4 Tendencies Model: the way people respond to expectations
Upholder, Questioner, Obliger, Rebel
Knowing your tendency type can help your tailor your approach and be more successful at living skillfully.
Where personality comes from
How much people can realistically change in life
What and how much is really in our control
The 21 Strategies of Habit Change
How cravings inevitably come and go (rather than the myth that they build and build until they overwhelm us)
Accepting yourself AND expecting more from yourself
---
Skillshare is an online learning community that helps you get better on your creative journey. They have thousands of inspiring classes for creative and curious people. Get 2 FREE months of premium membership at www.skillshare.com/feed
Remrise is a personalized sleep solution that uses natural, plant-based formulas to help calm the mind, relax the body and get your circadian rhythm back on track. It's drug-free and has no groggy side effects in the morning. To get 25% off your first month, go to www.getremrise.com/wolf and take their sleep quiz to determine which formulation is right for you.
Phlur: Get a luxurious scent made with transparent, clean ingredients. Eric created his own sampler set that you can try! Get this curated sampler set or create your own. Get 20% off your first Phlur sampler set at www.phlur.com/wolf
Gretchen Rubin Links:
---
If you enjoyed this conversation with Gretchen Rubin on Living Skillfully, you might also enjoy these other episodes: