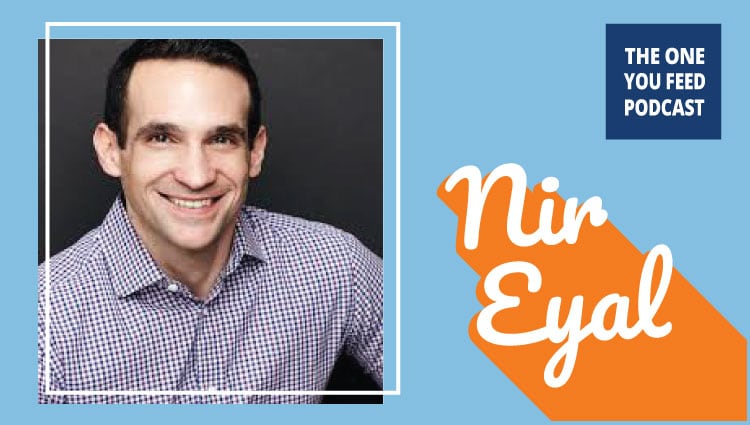 Nir Eyal is an author whose writing on technology, psychology, and business has appeared in the Harvard Business Review, The Atlantic, Psychology Today, and many other renowned publications. Previously, he taught as a Lecturer in Marketing at the Stanford Graduate School of Business and Design School. In this episode, Nir and Eric discuss his new book, Indistractable: How to Control Your Attention and Choose Your Life.
You can find all of the most up to date crisis help & support resources that Eric is making available through The One You Feed by going to www.oneyoufeed.net/help
The wisdom and practice of self-compassion is a foundational principle that Eric teaches and helps his private clients learn to apply through the 1-on-1 Spiritual Habits Program. To learn more about this program, click here.
Need help with completing your goals in 2020? The One You Feed Transformation Program can help you accomplish your goals this year.
But wait – there's more! The episode is not quite over!! We continue the conversation and you can access this exclusive content right in your podcast player feed. Head over to our Patreon page and pledge to donate just $10 a month. It's that simple and we'll give you good stuff as a thank you!
In This Interview, Nir Eyal and I discuss Becoming Indistractable and…
How what we pay attention to determines our quality of life
The importance of being in control of how you spend your time and attention in life
When it comes to being distracted, there are the blamers, the shamers, and the claimers
That the root cause of distraction is uncomfortable sensations
Time management is pain management
How you can't stop emotions but you can respond to them
The 4 key steps of becoming indistractable
Traction and Dis-traction
How anything can become a distraction
That you can't call something a distraction unless you know what you are distracted from
The tyranny of the to-do list
Deciding with intent when you're going to do something
Timeboxing
Mastering our internal triggers: Learning to work with our uncomfortable emotions
The 3 reasons we get distracted
The antidote to impulsive behavior
Using an identity to help us become indistractable
Nir Eyal Links:
nirandfar.com; FREE Schedule Maker
Best Fiends: Engage your brain and play a game of puzzles with Best Fiends. Download for free on the Apple App Store or Google Play.
SimpliSafe: Get comprehensive protection for your entire home with security cameras, alarms, sensors as well as fire, water, and carbon monoxide alerts. Visit simplisafe.com/wolf for free shipping and a 60-day money-back guarantee.
Seed: Scientifically validated, next-generation probiotics. Their mission: to bring much-needed precision, efficacy, and education to the global probiotics market. Go to www.seed.com/wolf or use promo code WOLF for 15% off your first month of The Daily Symbiotic.
If you enjoyed this conversation with Nir Eyal on the Becoming Indistractible, you might also enjoy these other episodes: