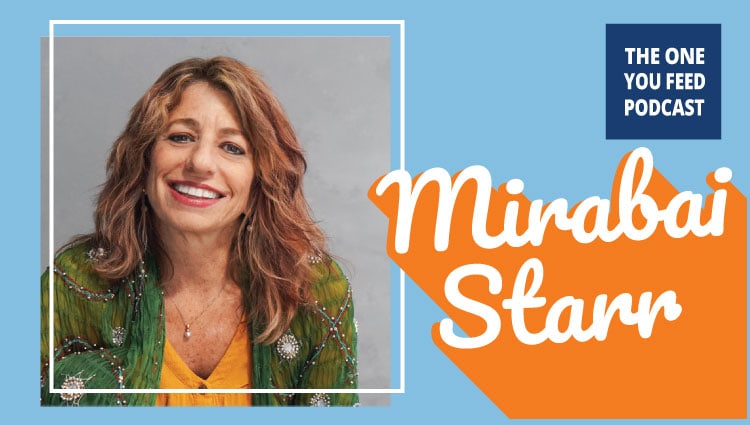 Mirabai Starr is an award-winning author of creative non-fiction and contemporary translations of sacred literature. She taught Philosophy and World Religions at the University of New Mexico-Taos for 20 years and now teaches and speaks internationally on contemplative practice and inter-spiritual dialog. Her latest book is called, WILD MERCY: Living the Fierce & Tender Wisdom of the Women Mystics.
In this episode, Eric and Mirabai explore the intersection of interspirituality and the divine feminine – specifically, as it shows up in her life and in the life of the women mystics whose stories she tells.
It's *finally* a new year! While there's no doubt that 2021 will have its challenges, there is so much you can do to make it a wonderful year for you on a personal level.
If you'd like to start out this new year restoring some balance and putting some healthy habits in place, or if you're tired of waiting for the right circumstances to make progress towards your goals, Eric, as a behavior coach, can help you.
To book a free, no-pressure 30-minute call with Eric to see if working with him in The One You Feed Personal Transformation Program is right for you, click here.
But wait – there's more! The episode is not quite over!! We continue the conversation and you can access this exclusive content right in your podcast player feed. Head over to our Patreon page and pledge to donate just $10 a month. It's that simple and we'll give you good stuff as a thank you!
In This Interview, Mirabai Starr and I discuss the Divine Feminine and…
A few of her favorite women mystics
The Divine Feminine Energy
Belief structures that no longer serve us well
Being engaged in the world as a spiritual practice
How drawing from many spiritual traditions is like digging one well with many different tools
The way she has created her spiritual practice over time
Feminine wisdom teachings
The morning rituals that start her day
The practice of the Sabbath
The link between creativity, spirituality, and mysticism
Mirabai Starr Links:
Calm App: The app designed to help you ease stress and get the best sleep of your life through meditations and sleep stories. Join the 85 million people around the world who use Calm to get better sleep. Get 40% off a Calm Premium Subscription (a limited time offer!) by going to www.calm.com/wolf
Talkspace is the online therapy company that lets you connect with a licensed therapist from anywhere at any time at a fraction of the cost of traditional therapy. It's therapy on demand. Visit www.talkspace.com and enter Promo Code: WOLF to get $100 off your first month.
If you enjoyed this conversation with Mirabai Starr on the Divine Feminine, you might also enjoy these other episodes:
Spirituality and Anti-racisim with Sonia Roberts