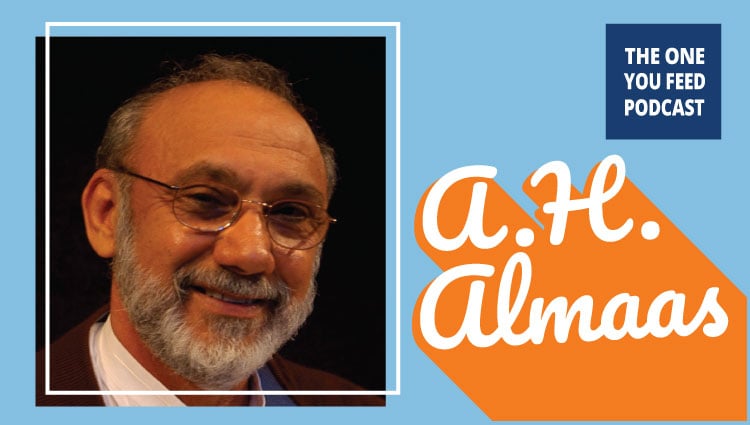 A. H. Almaas is the pen name of A. Hameed Ali. He is the founder of the Diamond Approach to Self-Realization which is a contemporary teaching that developed within the context of both ancient spiritual teachings and modern depth psychology theories. He has authored eighteen books about spiritual realization, including the Diamond Heart series, The Pearl Beyond Price, The Void, The Alchemy of Freedom, and his newest book, Love Unveiled: Discovering the Essence of the Awakened Heart.
In this episode, A.H. Almaas and Eric explore how to use curiosity, inquiry, courage, kindness, and love to discover our true nature, which he refers to as our "essence". It is a deep and freeing approach to achieve healing and wholeness within ourselves.
But wait – there's more! The episode is not quite over!! We continue the conversation and you can access this exclusive content right in your podcast player feed. Head over to our Patreon page and pledge to donate just $10 a month. It's that simple and we'll give you good stuff as a thank you!
In This Interview, A.H. Almaas and I Discuss Discovering our Essence and…
His newest book, Love Unveiled: Discovering the Essence of the Awakened Heart
The Diamond Approach
What he means when he talks about our "essence"
The difference between personality and essence
Seeing our children's essential nature and loving them for it
The Theory of Holes
The role of inquiry in feeling your emotion
Accessing your emotions by seeing what's in the way of feeling them
Principles that ground us in inquiry so we might see the totality of our experience in the present moment
The difference between and integration of psychology and spirituality
The result of staying with our direct, immediate experience
How wanting to change ourselves interferes with our ability to study and learn about ourselves
Including our desires in our inquiry
That "allowing things to be exactly as they are" is the highest teaching there is
Becoming consistently curious about what's happening
How to learn to stay with emotional pain
The similarities between sadness and kindness
Inquiring about our essence
A.H. Almaas Links:
BLUblox offers high-quality lenses that filter blue light, reduce glare, and combat the unhealthy effects of our digital life. Visit BLUblox.com and get free shipping and also 15% off with Promo Code: WOLF
Talkspace: the online therapy company that lets you connect with a licensed therapist from anywhere at any time. Therapy on demand. Non-judgemental, practical help when you need it at a fraction of the cost of traditional therapy. Visit www.talkspace.com and enter Promo Code: WOLF to get $100 off your first month.
SimpliSafe: Get comprehensive protection for your entire home with security cameras, alarms, sensors as well as fire, water, and carbon monoxide alerts. Visit simplisafe.com/wolf for free shipping and a 60-day money-back guarantee.
If you enjoyed this conversation with A.H. Almaas on Discovering Our Essence, you might also enjoy these other episodes: