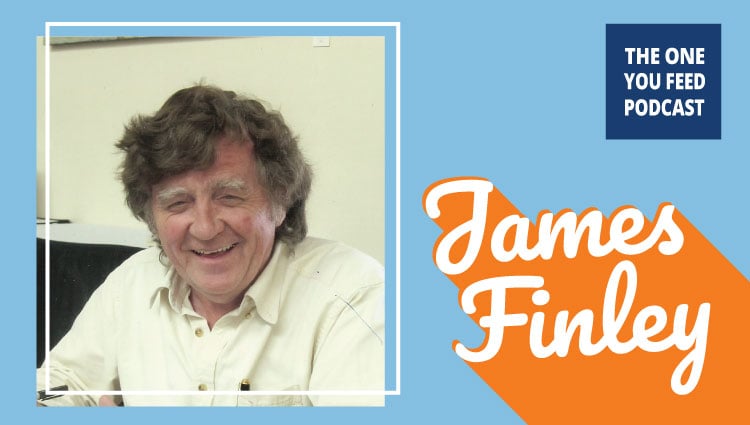 James Finley is a contemplative practitioner, clinical psychologist and faculty member of The Living School for Action and Contemplation. Drawing from his experience as a former monk and spiritual directee of Thomas Merton, James helps seekers who desire to live a contemplative, whole life. In this episode, he and Eric discuss many of his works and concepts pertaining to contemplation, awakening to our true nature, truth that transcends religions, love and wisdom. We think you will be struck (as we are!) by how expansive, inclusive and edifying James' words and teachings are when it comes to helping you to connect with that which is loving and true and always present.
Need help with completing your goals in 2019? The One You Feed Transformation Program can help you accomplish your goals this year.
But wait – there's more! The episode is not quite over!! We continue the conversation and you can access this exclusive content right in your podcast player feed. Head over to our Patreon page and pledge to donate just $10 a month. It's that simple and we'll give you good stuff as a thank you!
In This Interview, James Finley and I Discuss Contemplation, Awakening, and …
The question: In this moment, what's the most loving thing I can do?
How it's love that feeds the good wolf
His book, Merton's Palace of Nowhere
His violent, abusive alcoholic father and how that facilitated his seeking a place in a monastery with Thomas Merton
Merton's message that we are one with the infinite love that is God and that is our deepest identity and it is our destiny is to realize that
That we subsist in a relationship with God as light subsists in flame
How truth transcends religions
The True Self and False Self
The lie that the ego is all that we are
Identity: The discovery of the true self is the process of dying to our dreaded and cherished illusion that anything less than infinite union with infinite love has the authority to name who we are.
The acts that hurt ourselves and others is the acting out of a mistaken identity
His book, The Contemplative Heart
To contemplate means to pay attention, to observe carefully
Contemplation is sustained attentiveness infused with love
His book, Christian Meditation
Taking the stance of least resistance when it comes to awakening
The welling up of that which sustains us in the brokenness
Removing complexities and distractions to be present in stillness
The mystic teacher is one whose words awaken your heart to the desire for "the great way" and offers trustworthy guidance in it.
The mystic teacher uses language in the service of helping a person to let go of their dependency on the kind of language that stops short at explanations to find the language that is a kind of a cry from the heart, from our true self.
The true self embraces both solitude and communion with others
The metaphor of a high jumper and a very high bar and God's mercy or compassion then placing it on the ground where we then trip over it and fall into God's loving arms
Being sustained by a mystery that then brings us to itself – and that is wisdom
---
James Finley Links:
Calm: The #1 rated app for meditation. They have meditations, adult bedtime stories, soothing music, calm masterclasses with may One You Feed Guests. www.calm.com/wolf 25% off a Calm Premium Subscription
Daily Harvest – Delivers absolutely delicious organic, carefully sourced, chef-created fruit and veggie smoothies, soups, overnight oats, bowls and more. To get $25 off your first box go to www.dailyharvest.com and enter promo code FEED
FabFitFun – A women's lifestyle subscription box filled with full-size premium items that you will love. Give yourself (or someone special in your life!) this gift – use the promo code FEED for $10 off your first box at fabfitfun.com
---
If you enjoyed this conversation with James Finley on Contemplation and Awakening, you might also enjoy these other episodes: