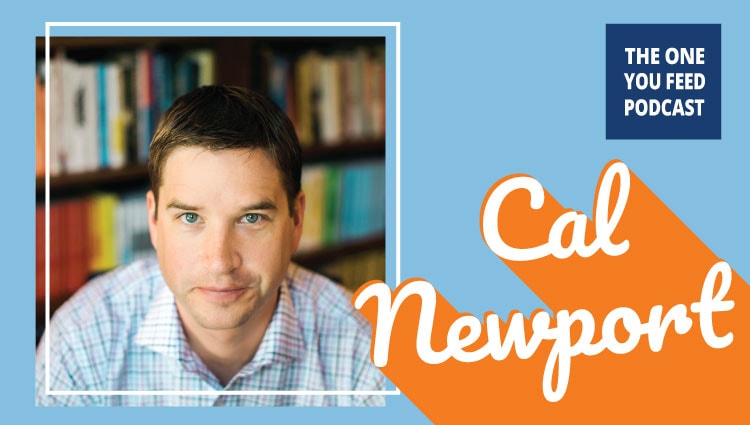 Cal Newport is a computer science professor at Georgetown University. In addition to his academic research, he writes about the intersection of digital technology and culture. He is the author of 6 books, his most recent being the New York Times bestseller, Digital Minimalism: Choosing a Focused Life in a Noisy World. In this interview, Eric and Cal discuss how to optimize the role of tech in our lives so that it supports us in the life we want to live., rather than depleting us and causing us to feel like we are giving it too much of our time and energy.
Need help with completing your goals in 2019? The One You Feed Transformation Program can help you accomplish your goals this year.
But wait – there's more! The episode is not quite over!! We continue the conversation and you can access this exclusive content right in your podcast player feed. Head over to our Patreon page and pledge to donate just $10 a month. It's that simple and we'll give you good stuff as a thank you!
In This Interview, Cal Newport and I Discuss Digital Minimalism and…
The concerns about our digital lifestyle
The mixture of harm and benefit with social media
The costs of our digital lifestyle
Digital Maximalist vs Digital Minimalist
Starting with your values as a guide to decide what tech you use to maximize the time you can spend on things you value
How to think about the role of tech in your life
Deploying tech to support you in living life according to your values
Having a philosophy surrounding the use of tech in your life
How clutter is costly
Adding up the cost and value of something
The importance of optimization in addition to the role of tech in our lives
Intentionality is satisfying
The 3 step process for implementing digital minimalism
---
Cal Newport Links:
Daily Harvest – Delivers absolutely delicious organic, carefully sourced, chef-created fruit and veggie smoothies, soups, overnight oats, bowls and more. To get $25 off your first box go to www.dailyharvest.com and enter promo code FEED
The Great Courses Plus: Are you a life long learner? A perpetually curious person? The Great Courses Plus is an on-demand streaming service that offers courses taught by professors on a whole host of topics such as Human Behavior, Money Management Skills, Astronomy, Cooking and so much more. Listeners of the show get a full month of unlimited access to their library for FREE by signing up at www.thegreatcoursesplus.com/wolf

Remrise is a personalized sleep solution that uses natural, plant-based formulas to help calm the mind, relax the body and get your circadian rhythm back on track. It's drug-free and has no groggy side effects in the morning. To get your first week FREE, go to www.getremrise.com/wolf and take their sleep quiz to determine which formulation is right for you.
---
If you enjoyed this conversation with Cal Newport on Digital Minimalism, you might also enjoy these other episodes: