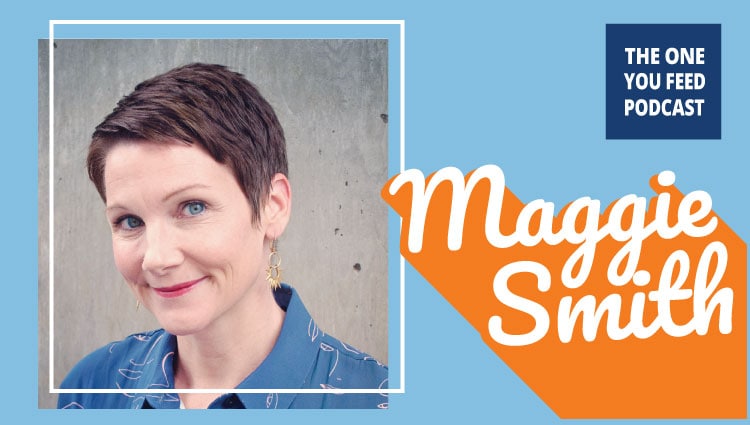 Maggie Smith is a poet whose work has been widely published, anthologized, and has appeared in Best American Poetry, the New York Times, The New Yorker and elsewhere. Her latest book, Keep Moving: Notes on Loss, Creativity, and Change, a collection of essays and quotes, is a national bestseller.
In this episode, Maggie and Eric discuss this new book and how for her, writing poetry is having a conversation with herself, problem solving, and healing on paper.
If you'd like to start out this new year restoring some balance and putting some healthy habits in place, or if you're tired of waiting for the right circumstances to make progress towards your goals, Eric, as a behavior coach, can help you.
To book a free, no-pressure 30-minute call with Eric to see if working with him in The One You Feed Personal Transformation Program is right for you, click here.
But wait – there's more! The episode is not quite over!! We continue the conversation and you can access this exclusive content right in your podcast player feed. Head over to our Patreon page and pledge to donate just $10 a month. It's that simple and we'll give you good stuff as a thank you!
In This Interview, Maggie Smith and I discuss Writing for Healing and…
The dark time in her life that gave birth to her growth
How hope is imaginative and necessary if you're to come out of difficulty
The role of endurance in healing
Gratitude as a practice even in the darkest times
That big life changes are often identity issues that cause us to ask "who am I now?"
Another meaning to the phrase "it's always something!"
The reality that we pave the path of the future one step at a time
Her experience as a recovering pessimist
The difference between her poetry and her essays
The role of setting in her poetry
How it never feels good in the long run to have done the wrong thing
Post Traumatic Growth
Maggie Smith Links:
KiwiCo: The subscription service that sends your child hands-on science, art, and geography projects each month to build confidence, creativity, and critical thinking skills. Get 30% off your first month plus free shipping on any crate line with the promo code FEED at www.KiwiCo.com
FitTrack Dara Smart Scale: It accurately measures 17 vital health metrics including body composition, hydration levels, and so much more. Stop measuring weight and start measuring health with FitTrack. Go to www.getfittrack.com/wolf to get 50% off your order – plus! for a limited time, you'll save an additional 10%!
Calm App: The app designed to help you ease stress and get the best sleep of your life through meditations and sleep stories. Join the 85 million people around the world who use Calm to get better sleep. Get 40% off a Calm Premium Subscription (a limited time offer!) by going to www.calm.com/wolf
If you enjoyed this conversation with Maggie Smith on Writing for Healing, you might also enjoy these other episodes:
Writing as a Path to Awakening with Albert Flynn DeSilver