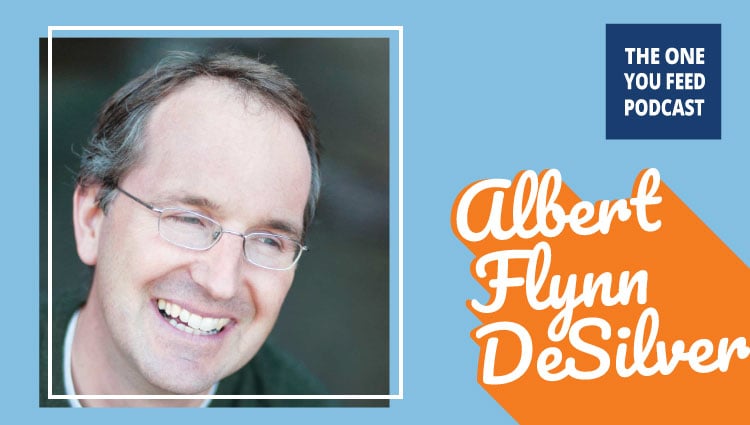 Albert Flynn DeSilver is an American poet, memoirist, novelist, speaker, and workshop leader. He is the author of several books of poems, a memoir titled "Beamish Boy (I am not my story): A Memory of Recovery and Awakening", and the book discussed in this episode: Writing as a Path to Awakening: A Year to Becoming an Excellent Writer and Living an Awakened Life
In this episode, Albert Flynn DeSilver and Eric talk about using writing, poetry, and contemplative practices as a way to guide us on the path to awakening to our true selves.
But wait – there's more! The episode is not quite over!! We continue the conversation and you can access this exclusive content right in your podcast player feed. Head over to our Patreon page and pledge to donate just $10 a month. It's that simple and we'll give you good stuff as a thank you!
In This Interview, Albert Flynn DeSilver and I Discuss Writing as a Path to Awakening and…
Attention and action are needed to transcend our conditioning
Awakening means waking up to the reality of existence, that we are not our minds
Waking up to our true nature as opposed to conditioned nature
How writing is a creative act that can wake us up to full potentiality or higher truth
Writing and meditation as contemplative practices that support each other.
Poetry is a way to talk about that which can't be spoken of
How reading poetry is a very different and visceral reading experience
Writing with a sense of curiosity and exploration
Freewriting exercises – setting up to write what's there, internally and externally
Realizing we are in collaboration with all of the energy around us
Using prompts for writing for awakening practice
Gaining perspective and distance from the voices in our head
Setting yourself up for success with intentionality
The paradox of being "the greatest invention ever" and "completely insignificant"
Albert Flynn DeSilver Links:
Bombas: "The most comfortable socks on the planet" – Eric Zimmer. Visit www.bombas.com/wolf and enter offer code: wolf to save 20%
SimpliSafe: Get comprehensive protection for your entire home with security cameras, alarms, sensors as well as fire, water, and carbon monoxide alerts. Visit simplisafe.com/wolf for free shipping and a 60-day money-back guarantee.
Indeed: Helps you find high impact hires, faster, without any long term contracts and you pay only for what you need. Get started with a free $75 credit to boost your job post and get in front of more quality candidates by going to www.indeed.com/wolf
If you enjoyed this conversation with Albert Flynn DeSilver, you might also enjoy these other episodes: