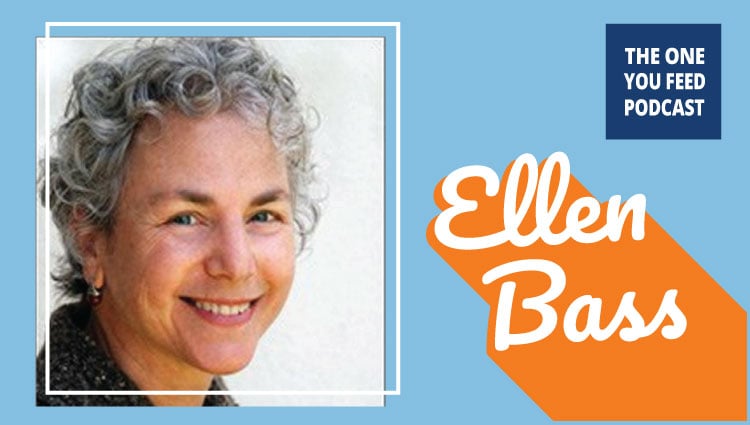 Ellen Bass is a poet, non-fiction author, and teacher. She is the author of many collections and books including Like a Beggar, The Human Line, and Mules of Love. Ellen's poems also appear frequently in The New Yorker, American Poetry Review, and many other journals. She's been awarded three Pushcart Prizes, The Lambda Literary Award, The Pablo Neruda Prize, and The New Letters Prize. Ellen also teaches in the MFA Writing Program at Pacific University. Her newest collection of poetry is entitled Indigo. This is Ellen's second time as a guest on the show.
In this episode, Ellen and Eric discuss the power of poetry – how it can change us and deepen our experience of and attention to the world around us. Ellen reads some of her incredibly beautiful poetry and as a result, we are indeed changed.
Spiritual Habits Group Program – Find Solid Ground In Shaky Times: Join Eric in this virtual, live group program to learn powerful Spiritual Habits to help you access your own deep wisdom and calm steadiness – even when the world feels upside down. Click here to learn more and sign up. Enrollment is open now through Sunday, July 19th, 2020
Need help with completing your goals in 2020? The One You Feed Transformation Program can help you accomplish your goals this year.
But wait – there's more! The episode is not quite over!! We continue the conversation and you can access this exclusive content right in your podcast player feed. Head over to our Patreon page and pledge to donate just $10 a month. It's that simple and we'll give you good stuff as a thank you!
In This Interview, Ellen Bass and I Discuss the Power of Poetry and…
Her new book of poetry, Indigo
How gratitude and love help her combat fear
Her practice as a poet is to take suffering and make art
The poem that took her 12 years to write
That worthwhile things are hard to do – even for experts
Wanting to be changed after writing or reading a poem
Her poem, Taking My Old Dog Out To Pee Before Bed
Her poem, Enough
What she thinks about when she hears someone else read her poetry as well as how poetry is to be read and heard "out loud"
Her poem, The Long Recovery
Trying not to resist the life we have and instead, hurl ourself more deeply into it
Great poets and their poetry teach us to observe the world more closely and see it as sacred and beautiful
Her poem, Any Common Desolation
Ellen Bass Links:
Ashford University: Their online bachelor's and master's degrees allow you to learn on a convenient and flexible schedule. There's no fee to apply and no standardized testing to enroll. Go to ashford.edu/wolf
Athletic Greens: The all in one daily drink to get daily nutritional needs, support better health and peak performance. Visit www.athleticgreens.com/feed to get 20 free daily travel packs with your first purchase.
Daily Harvest: Delivers absolutely delicious organic, carefully sourced, chef-created fruit and veggie smoothies, soups, overnight oats, bowls, and more. To get $25 off your first box go to www.dailyharvest.com and enter promo code FEED
If you enjoyed this conversation with Ellen Bass on the power of poetry, you might also enjoy these other episodes: