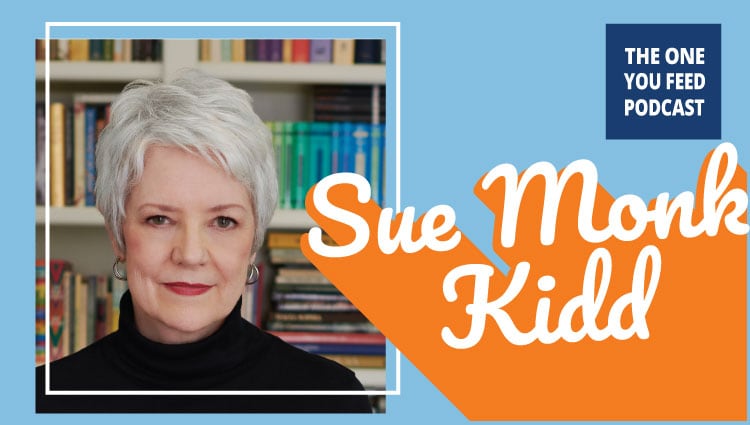 Sue Monk Kidd was raised in the small town of Sylvester, Georgia, a place that deeply influenced the writing of her first novel, The Secret Life of Bees. Her 1990 book, When the Heart Waits, has become a touchstone on contemplative spirituality. Sue serves on the Writers Council for Poets & Writers, Inc and is well known for her work in feminist theology. Her new book is a novel called, The Book of Longings.
You can find all of the most up to date crisis help & support resources that Eric is making available through The One You Feed by going to www.oneyoufeed.net/help
For a free video in which Eric teaches you 3 perspectives you can take to help you navigate these challenging times, go to www.spiritualhabits.net
The wisdom and practice of self-compassion is a foundational principle that Eric teaches and helps his private clients learn to apply through the 1-on-1 Spiritual Habits Program. To learn more about this program, click here.
Need help with completing your goals in 2020? The One You Feed Transformation Program can help you accomplish your goals this year.
But wait – there's more! The episode is not quite over!! We continue the conversation and you can access this exclusive content right in your podcast player feed. Head over to our Patreon page and pledge to donate just $10 a month. It's that simple and we'll give you good stuff as a thank you!
In This Interview, Sue Monk Kidd and I discuss Longings of our Heart and…
Her book, The Book of Longings
That what you pay attention to will either devour you or save you because we become what we pay attention to
The particular genius that dwells in every person
How she first decided that she wanted to write fiction when she was in her 40s
Asking the prayer that's at the bottom of your heart
How being visible and being audible in the world is a choice to express the largeness that's inside each of us
That we can nurture the largeness in another person, even if the largeness is inconvenient for us
God as an essence that lives everywhere, the being-ness in our midst
The many ways we conceptualize and thereby connect with God
Why suffering results in increased kindness in some while it hardens others
The role of vulnerability in our personal growth
When her therapist told her that the pain won't kill you but the running from it might.
What it means to "let life be" when both beautiful and terrible things happen
Radical acceptance
How the path to healing is right through the wound
Facing our pain so our soul can metabolize it and we can move through it and move on
What it means to be a mother beyond having actual children
The middle places in life where the waiting and the work happens
Her writing process
The silence beneath her words
Her life as a prayer
How letting go is not a one-time thing
That life is like a spiral
Sue Monk Kidd Links:
Talkspace: the online therapy company that lets you connect with a licensed therapist from anywhere at any time. Therapy on demand. Non-judgemental, practical help when you need it at a fraction of the cost of traditional therapy. Visit www.talkspace.com and enter Promo Code: WOLF to get $100 off your first month.
SimpliSafe: Get comprehensive protection for your entire home with security cameras, alarms, sensors as well as fire, water, and carbon monoxide alerts. Visit simplisafe.com/wolf for free shipping and a 60-day risk-free trial.
If you enjoyed this conversation with Sue Monk Kidd on the Longings of our Heart, you might also enjoy these other episodes: