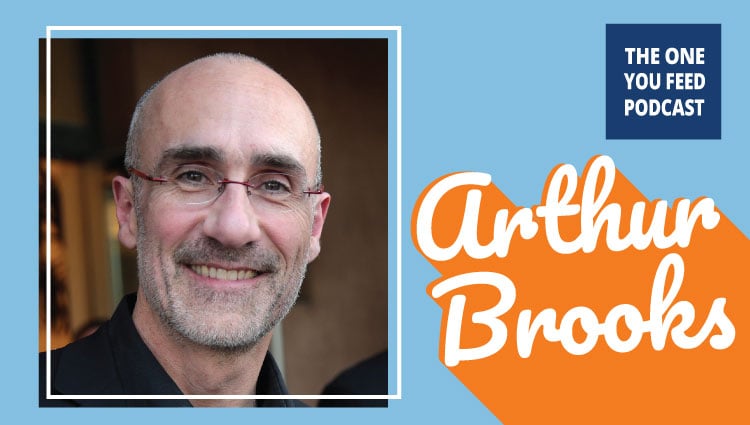 Arthur Brooks is a bestselling author, social scientist, and the President of the American Enterprise Institute. He teaches Leadership and Happiness at the Harvard School of Business.
In this episode, Eric and Arthur discuss happiness as well as his book, Love Your Enemies: How Decent People Can Save America From the Culture of Contempt.
But wait – there's more! The episode is not quite over!! We continue the conversation and you can access this exclusive content right in your podcast player feed. Head over to our Patreon page and pledge to donate just $10 a month. It's that simple and we'll give you good stuff as a thank you!
Arthur Brooks and I Discuss What It Takes to Find Happiness and…
The four extrinsic things that feed off fear are money, power, pleasure, and fame
The four intrinsic things that feed off love are faith, family, friendships, and meaningful work
How happiness requires meaning and having meaning requires challenge and/or difficulty
The three aspects of meaning are coherence, purpose, and significance
How writing out the thing you learned from a bad experience can bring meaning to it
Learning to find significance in the small things
How we need to stop living in the future and appreciate being in the present
The freeing idea that nobody really cares like we think they do
The more you judge others, the more you will feel judged
The therapy for feeling insecure is to stop judging and start observing
The link between humor and happiness
How we should reject grimness
Rejecting the expectations of the holidays can lead to more happiness
Arthur Brooks Links:
Novo Nordisk – Explore the science behind weight loss and partner with your healthcare provider for a healthy approach to your weight management. To learn more, visit truthaboutweight.com
If you enjoyed this conversation with Arthur Brooks, you might also enjoy these other episodes:
Jonathan Rauch – The Happiness Curve