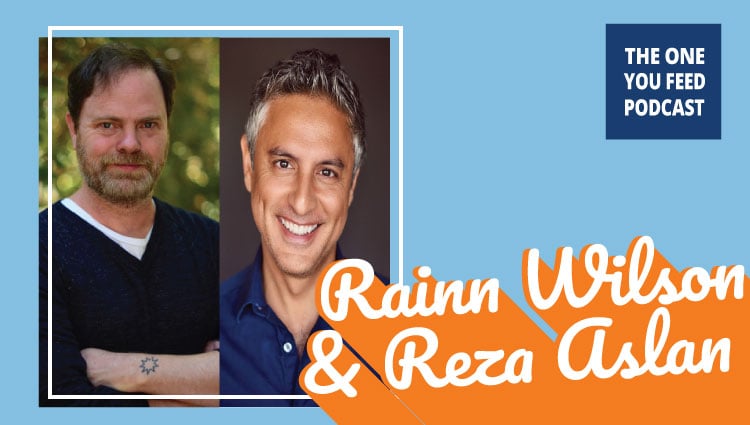 Rainn Wilson is a well-known actor, comedian, podcaster, producer, and writer. He's also a former guest of The One You Feed, and this time, he is with Reza Aslan, Reza is a professor of creative writing at the University of California, Riverside, and is the best-selling author of Zealot, The Life and Times of Jesus of Nazareth. Rainn and Reza host the popular podcast, Metaphysical Milkshake.
In this episode, Rainn & Reza have a wonderful discussion about spirituality, religion, and this journey called life.
But wait – there's more! The episode is not quite over!! We continue the conversation and you can access this exclusive content right in your podcast player feed. Head over to our Patreon page and pledge to donate just $10 a month. It's that simple and we'll give you good stuff as a thank you!
In This Interview, Rainn Wilson & Reza Aslan and I Discuss Spiritual Journeys and …
Their new podcast, Metaphysical Milkshake
Happiness, positive psychology, and Dr. Martin Seligman's work
How increased joy and well being comes from acts of service
Realizing that what you are seeking is already within you
The spiritual act of pausing rather than reacting
Rituals as a form of remembering
Beliefs are meaningless if we don't practice regularly
The journey to find God is internal, not outside of us
Esoteric and exoteric properties of religion
Faith and doubt and how they are meant to go together
Rainn Wilson & Reza Aslan Links:
Metaphysical Milkshake – YouTube
Reza's Website
Peloton: Of course the bike is an incredible workout, but did you know that on the Peloton app, you can also take yoga, strength training, stretching classes, and so much more? Learn all about it at www.onepeloton.com
Stitch Fix knows that when you look your best, you feel your best. Every piece is hand-picked for your fit, your style, and your life. Visit stitchfix.com/wolf to take your style quiz and get 25% off your order when you keep everything in your fix.
If you enjoyed this conversation with Rainn Wilson & Reza Aslan, you might also enjoy these other episodes:
Discovering Spiritual Truths with Pete Holmes