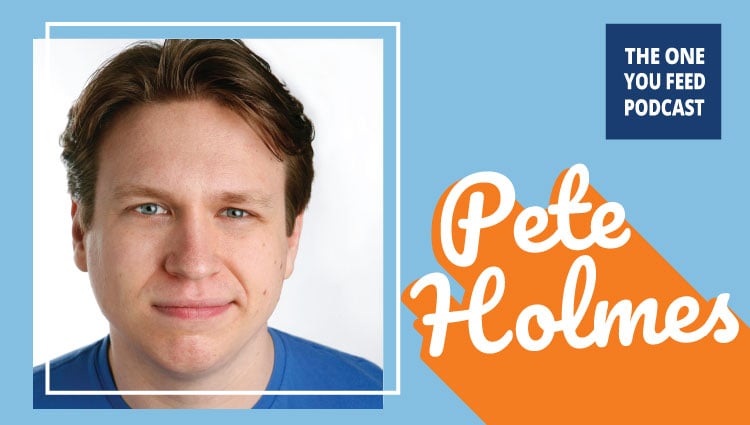 Pete Holmes is an American comedian, actor, writer, producer, and podcaster. He is both a hilarious comedian and a deeply contemplative, spiritual person. In this episode, Eric and Pete discuss his book, Comedy Sex God where they go into detail about how Pete views and experiences the world. From how he has learned to deal with frustrations to the way he returns to the present moment and experiences God in his daily life, this interview explores his direct experience with so much spiritual wisdom. You will laugh and also be deeply touched and inspired by this engaging, thoughtful conversation about discovering spiritual truths.
Need help with completing your goals in 2020? The One You Feed Transformation Program can help you accomplish your goals this year.
But wait – there's more! The episode is not quite over!! We continue the conversation and you can access this exclusive content right in your podcast player feed. Head over to our Patreon page and pledge to donate just $10 a month. It's that simple and we'll give you good stuff as a thank you!
In This Interview, Pete Holmes and I Discuss Discovering Spiritual Truths and…
His book, Comedy Sex God
The nature of life
Lighting up our pleasure centers can dull the rest of life
How sin is about being unconscious
The consequences of our behavior are not waiting for us in the afterlife – they're with us in the here and now
The tension between being and doing
Maintaining your center while doing a task
When Ram Dass told him, "don't do funny, BE funny"
The mistake of postponing your happiness until things are going your way
His favorite mantra
That being here and saying yes to the present moment is the kingdom of heaven
Being present even while you're planning in addition to non-resistance
The story of you, your ego and how it likes to exist
How he connects with his wife when he's rushed
The role of curiosity
When in doubt, zoom out
How God is a metaphor for a mystery
---
Pete Holmes Links:
Peloton: Wondering if a Peloton bike is right for you? You can get a free 30 day home trial and find out. If you're looking for a new way to get your cardio in, the Peloton bike is a great solution. Eric decided to buy one after his 30-day free trial. Visit onepeloton.com and enter Promo code "WOLF" to get $100 off of accessories with the purchase of a bike, and a free 30 day home trial.
Remrise is a personalized sleep solution that uses natural, plant-based formulas to help calm the mind, relax the body and get your circadian rhythm back on track. It's drug-free and has no groggy side effects in the morning. To get your first week FREE, go to www.getremrise.com/wolf and take their sleep quiz to determine which formulation is right for you.
Skillshare is an online learning community that helps you get better on your creative journey. They have thousands of inspiring classes for creative and curious people. Get 2 FREE months of premium membership at www.skillshare.com/feed

---
If you enjoyed this conversation with Pete Holmes on Discovering Spiritual Truths, you might also enjoy these other episodes: