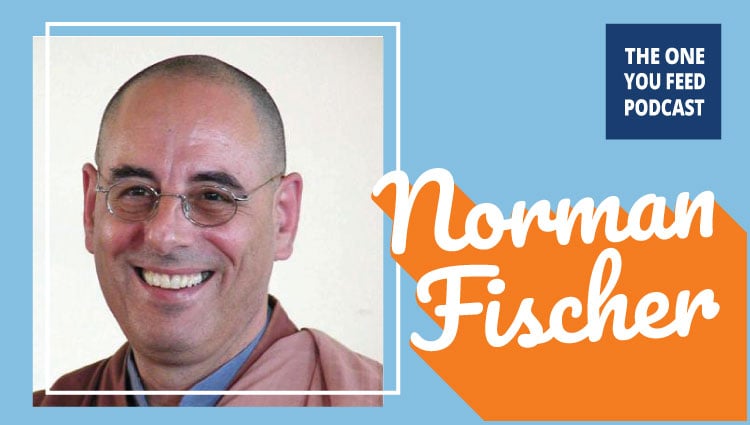 Norman Fischer is a poet, author, Zen Buddhist teacher and priest. He's a graduate of Iowa's Writer's Workshop and he's been publishing poetry since 1979. He's the author of 17 books of poetry, 6 books of prose on Zen and religion as well as numerous articles and essays. In this episode, Eric and Norman discuss his book, The World Could Be Otherwise: Imagination and the Bodhisattva Path.
If you are interested in learning more about how to integrate and embody spiritual principles into the moments of your daily life, Eric teaches people how to do just that in his 1-on-1 Spiritual Habits Program. Click here to learn more.
Need help with completing your goals in 2020? The One You Feed Transformation Program can help you accomplish your goals this year.
But wait – there's more! The episode is not quite over!! We continue the conversation and you can access this exclusive content right in your podcast player feed. Head over to our Patreon page and pledge to donate just $10 a month. It's that simple and we'll give you good stuff as a thank you!
In This Interview, Norman Fischer and I discuss Spiritual Growth through Imagination and…
Redefining imagination and discovering it's prevalence and role in life
The role of imagination in spiritual paths
How we don't see the world exactly as it is, but rather through filters
Loosening our grasp on what we think of as absolute reality
Constructing useful stories in our mind rather than living by our default stories
The essential ways in which imagination enriches the experience of our lives
When we realize we are making our lives for ourselves, we have the power to make it differently
The Bodhisattva: A Buddha in training
Compassion, Love and Service for the benefit of others
The Bodhisattva Path
The myth of separateness and the truth of interconnection and love
That holding two (seemingly contradictory) ideas in our mind at one time offers us depth perception
How ideals can inspire us rather than put pressure on us
The disease of perfectionism
How to engage in "Joyful Effort" when you don't feel very joyful and don't have much effort to spare
Patience: Just keep going and be of benefit to others
Turning toward what's arising: facing it, embracing it, breathing into it and going forward with it
The problematic nature of favoring one's own suffering over the suffering of others
Norman Fischer Links:
Best Fiends: Engage your brain and play a game of puzzles with Best Fiends. Download for free on the Apple App Store or Google Play.
Blinkist: Do you have an ever-growing list of books to read? Blinkist can help! With thousands of non-fiction books distilled down to their most salient points that you can consume in 15 minutes or less (audio available too!) go to www.blinkist.com/wolf for a 7-day free trial and then save 25% off your new subscription if you decide to sign up!
Talkspace: the online therapy company that lets you connect with a licensed therapist from anywhere at any time. Therapy on demand. Non-judgemental, practical help when you need it at a fraction of the cost of traditional therapy. Visit www.talkspace.com and enter Promo Code: WOLF to get $100 off your first month.
If you enjoyed this conversation with Norman Fischer on Spiritual Growth through Imagination, you might also enjoy these other episodes: