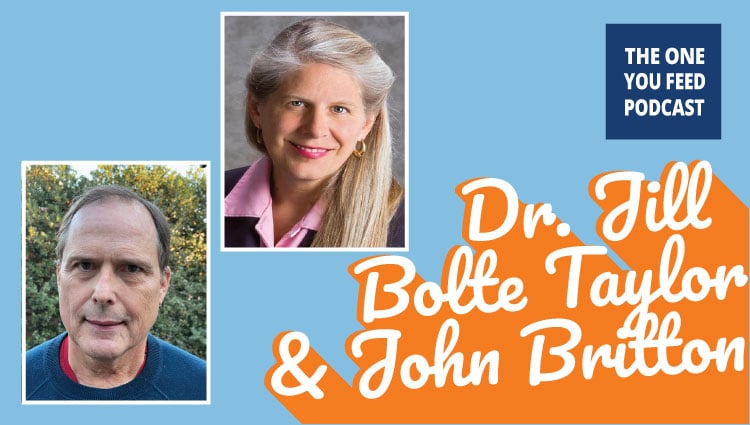 Dr. Jill Bolte Taylor is a Harvard-trained and published neuroanatomist. In 1996, Jill experienced a severe hemorrhage in the left hemisphere of her brain, causing her to lose the ability to walk, talk, read, write, or recall any of her life. John Britton is a former anesthesiologist who suffered a right brain injury leaving him with only his left brain to function. After hearing Jill's previous episode on this show, John contacted Eric and they thought it would be interesting to host a conversation with John and Dr. Bolte Taylor to discuss their respective experiences.
In this episode, Jill, John, Ginny, and Eric talk about what it's like to experience the world through your right brain vs. your left brain and how they come together to make for whole-brain living.
But wait – there's more! The episode is not quite over!! We continue the conversation and you can access this exclusive content right in your podcast player feed. Head over to our Patreon page and pledge to donate just $10 a month. It's that simple and we'll give you good stuff as a thank you!
Dr. Jill Bolte Taylor, John Britton, and I Discuss Right Brain Injury vs Left Brain Injury and…
The functions of and interaction between the right and left hemispheres of the brain
How the left brain governs past and future, me the individual, details, boundaries, language
That the right brain governs the present, the "we" collective, connections, expansive, and openness
The way the two hemispheres of our brain interact with one another in a healthy brain
How John experienced the world before, during, and after his right brain injury
The most helpful rehabilitation approach for John post his injury
Dr. Jill Bolte Taylor's experience of her left hemisphere traumatic brain injury and her recovery story
Dr. Jill Bolte Taylor Links:
Dr. Jill Bolte Taylor's Website
Calm App: The app designed to help you ease stress and get the best sleep of your life through meditations and sleep stories. Join the 85 million people around the world who use Calm to get better sleep. Get 40% off a Calm Premium Subscription (a limited time offer!) by going to www.calm.com/wolf
Talkspace is the online therapy company that lets you connect with a licensed therapist from anywhere at any time at a fraction of the cost of traditional therapy. It's therapy on demand. Visit www.talkspace.com or download the app and enter Promo Code: WOLF to get $100 off your first month.
If you enjoyed this conversation with Dr. Jill Bolte Taylor and John Britton, you might also enjoy these other episodes:
Whole Brain Living with Dr. Jill Bolte Taylor
The Divided Yet Connected Brain with Iain McGilchrist