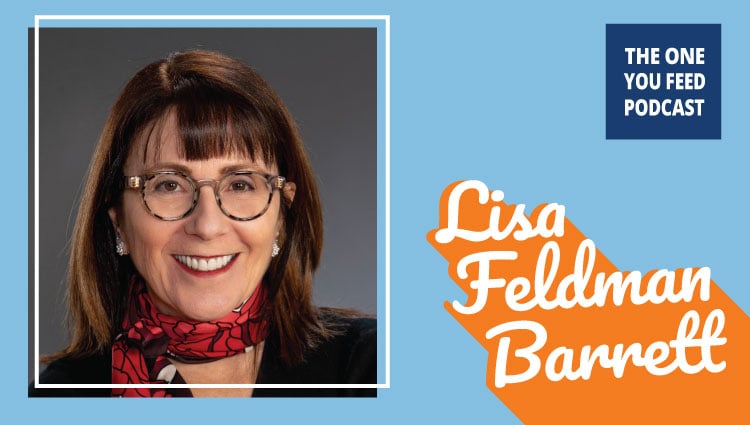 Lisa Feldman Barrett is among the top one percent most cited scientists in the world for her revolutionary research in psychology and neuroscience. She is a University Distinguished Professor of Psychology at Northeastern University, with appointments at Harvard Medical School and Massachusetts General Hospital. She also received a Guggenheim Fellowship in 2019, the APS Mentor Award for Lifetime Achievement in 2018, and the APA Distinguished Scientific Contribution Award in Psychology in 2021. She is the author of many books including the one discussed in this episode, Seven and a Half Lessons About The Brain.
In this episode, Eric and Lisa Feldman Barrett discuss key findings about how our brains work and how these findings can help us live a healthier, happier life.
But wait – there's more! The episode is not quite over!! We continue the conversation and you can access this exclusive content right in your podcast player feed. Head over to our Patreon page and pledge to donate just $10 a month. It's that simple and we'll give you good stuff as a thank you!
In This Interview, Lisa Feldman Barrett and I Discuss Lessons About the Brain and…
Her book, Seven and a Half Lessons About The Brain
The ways that humans regulate one another contributing to the wellbeing or burdening one another
That we are the caretaker of other people's nervous systems
The fact that we are all also responsible for ourselves
We are responsible for certain things not necessarily because they're our fault, but because we're the only one's who can change them
Difference between responsibility and culpability
The brain's most important job
The biggest predictor of illness in adulthood
What makes you more vulnerable to stressors later in life
That brains specialize in predicting rather than reacting
Things we can do to make the quality of our day to day experience feel better
Flexibility being the key to resilience
Lisa Feldman Barrett Links:
ID Tech is the world's number one STEM program for kids and teens ages 7-17. Visit www.idtech.com/wolf to get $100 off ID Tech's virtual tech camp.
Awara Mattresses are made with only natural and organic materials, including 100% organic wool from happy New Zealand sheep! For every mattress sold, 10 fruit trees will be planted. To get $350 off your mattress, plus free shipping, a Forever warranty, AND free accessories (including 2 pillows, sheets, and a waterproof mattress protector (value $499)), visit www.awarasleep.com/feed
If you enjoyed this conversation with Lisa Feldman Barrett, you might also enjoy these other episodes:
Lisa Feldman Barrett on Emotions (2017)
Strengthening Our Resilience with Linda Graham