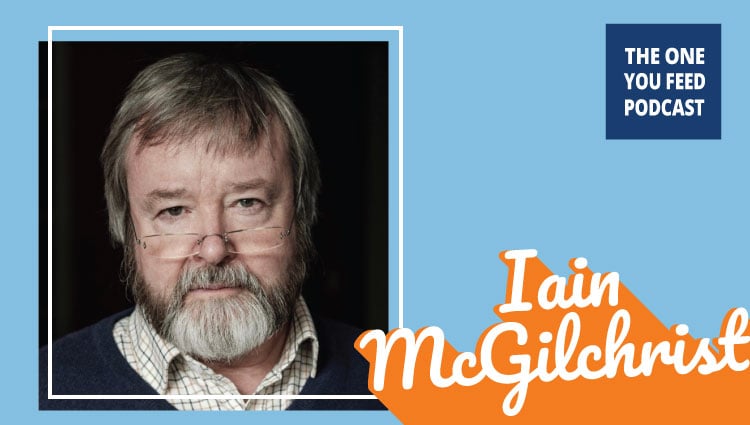 Stressed by Holiday Expectations?
Join Eric and The One You Feed Community for a FREE online gathering on November 30th at 8pm Eastern Time. (Recording will be available for 72 hours)
In this free live event, Eric will teach a Spiritual Habit that will allow you to release these types of stress and touch into a deeper feeling of wholeness, peace, steadiness, and presence. Register Now!
Iain McGilchrist is a psychiatrist, author, lecturer, and former Oxford Literary Scholar. He is committed to the idea that the mind and brain can be understood only by seeing them in the broadest possible context, that of the whole of our physical and spiritual existence, and of the wider human culture in which they arise – the culture which helps to mold, and in turn is molded by, our minds and brains.
Today Iain and Eric discuss his book, The Master and His Emissary: The Divided Brain and the Making of the Western World.
But wait – there's more! The episode is not quite over!! We continue the conversation and you can access this exclusive content right in your podcast player feed. Head over to our Patreon page and pledge to donate just $10 a month. It's that simple and we'll give you good stuff as a thank you!
Iain McGilchrist and I Discuss The Divided yet Connected Brain and …
That creativity requires resistance
The differences between the two hemispheres of our brain
How distinctions are important but divisions are invented by us
The ways our brain hemispheres work together
That our world is currently dominated by left brain hemisphere thinking
The ways we might address the crises we face as a species and world
How he responds to the critics of a right brain/left brain theory
The ways in which our hemispheres are connected and work together
The difference between our two hemispheres isn't as much what they do but how they do it
The 8 portals our brain uses to get information about the world
The 4 powers we have to arrive at truth
Iain McGilchrist Links:
Upstart: The fast and easy way to get a personal loan to consolidate, lower your interest rate, and pay off your debt. Go to www.upstart.com/wolf
If you enjoyed this conversation with Iain McGilchrist, you might also enjoy these other episodes:
Whole Brain Living with Dr. Jill Bolte Taylor