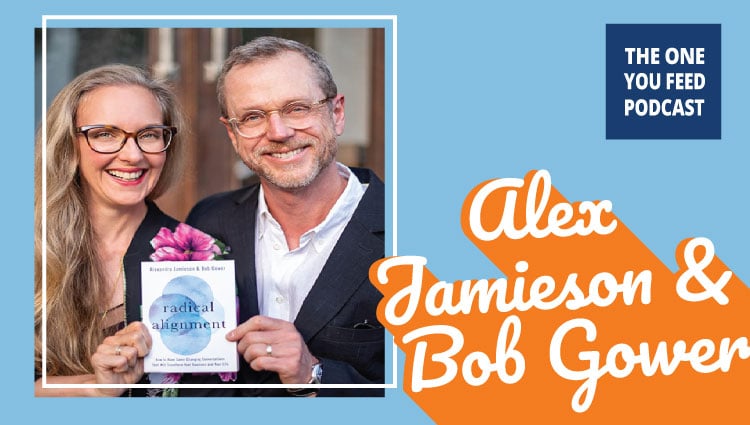 Alex Jamieson is a holistic weight loss and nutrition and lifestyle coach who has appeared on Oprah, Martha Stewart Living, CNN, Fox News, USA Today, and People Magazine.
Bob Gower is a consultant who helps organizations become future-ready and more effective. He has worked with leaders at organizations from multinationals like Chanel, Ford, and GE all the way to non-profits like New York Public Radio and The Studio Museum in Harlem.
In this episode, Eric, Alex, and Bob discuss the 4 prompts that can be used in any conversation to produce a better outcome for all people involved.
But wait – there's more! The episode is not quite over!! We continue the conversation and you can access this exclusive content right in your podcast player feed. Head over to our Patreon page and pledge to donate just $10 a month. It's that simple and we'll give you good stuff as a thank you!
As a Spiritual Director and Transformation Coach, Eric works with people to establish healthy habits for a better, more fulfilling life. If you're curious to learn more about how you might work with him, click here to book a free (absolutely no pressure to sign up!) 30-minute consultation call with him.
In This Interview, Alex Jamieson and Bob Gower and I discuss Conversations for Radical Alignment and…
Their book, Radical Alignment: How to Have Game-Changing Conversations That Will Transform Your Business and Your Life
How their son's diagnosis of dyslexia and ADHD got them both involved in positive psychology
That we actually calm our nervous system when we speak our concerns out loud
How helpful it can be to get specific about our fears
The fact that we need to feel good physically to talk about important things
The tools that helped them process emotions better
The conversation formula of Intentions, Concerns, Boundaries, and Dreams
Why, in a relationship, you should absolutely go to bed angry
That the point of their method is to make more of the relationship iceberg visible
The importance of inviting someone to a conversation (without saying "We need to talk")
Their suggestion to "Listen with compassion and curiosity and speak with courage and vulnerability."
Alex Jamieson and Bob Gower Links:
Alex and Bob's Website
KiwiCo: The subscription service that sends your child hands-on science, art, and geography projects each month to build confidence, creativity, and critical thinking skills. Get 30% off your first month plus free shipping on any crate line with the promo code FEED at www.KiwiCo.com
Peloton: Of course the bike is an incredible workout, but did you know that on the Peloton app, you can also take yoga, strength training, stretching classes, and so much more? Learn all about it at www.onepeloton.com
If you enjoyed this conversation with Alex Jamieson and Bob Gower, you might also enjoy these other episodes:
Becoming Wholehearted with Koshin Paley Ellison