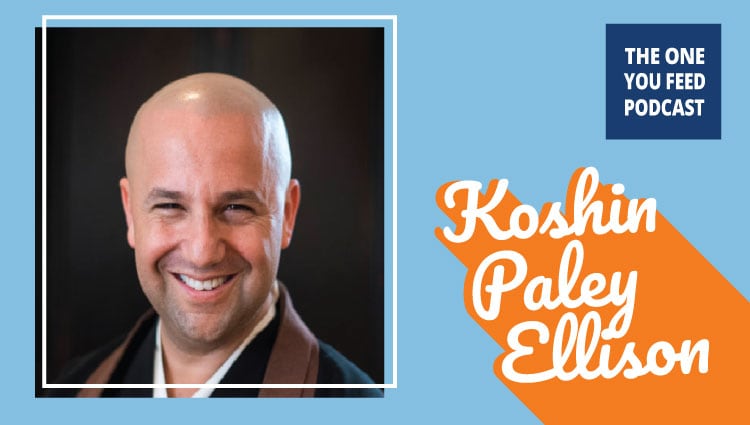 Sensei Koshin Paley Ellison is a Zen teacher and co-founder with his partner, Sensei Chodo Robert Campbell, of the New York Zen Center of Contemplative Care. He's also an author, a Jungian psychotherapist, and a Certified Chaplaincy Educator.
In this episode, Koshin Paley and Eric discuss his newest book, Wholehearted: Slow Down, Help Out, Wake Up, and how we can live in such a way that we integrate all of the parts of ourselves into a loving, wholehearted being.
As we approach a new year, there's no doubt that 2021 will have its challenges, but there is so much you can do to make it a wonderful year for you on a personal level.
If you'd like to start out this new year restoring some balance and putting some healthy habits in place, or if you're tired of waiting for the right circumstances to make progress towards your goals, Eric, as a behavior coach, can help you.
To book a free, no-pressure 30-minute call with Eric to see if working with him in The One You Feed Personal Transformation Program is right for you, click here.
But wait – there's more! The episode is not quite over!! We continue the conversation and you can access this exclusive content right in your podcast player feed. Head over to our Patreon page and pledge to donate just $10 a month. It's that simple and we'll give you good stuff as a thank you!
In This Interview, Koshin Paley and I discuss Becoming Wholehearted and…
The comment from a stranger that helped shape his path
The problem with being a "lone wolf"
How to work with your preferences in a skillful way
The importance of being open to learning from whatever is happening
Learning to see your friends and enemies as equals
The bridge of compassion
His practice to cultivate unconditional love
Wholehearted as integrating oneself and one's life
Life as a journey of endlessly unfolding
"Good enough" community and sangha
Learning to be at one with our own pain because it is the place of freedom
Koshin Paley Ellison Links:
Best Fiends: Engage your brain and play a game of puzzles with Best Fiends. Download for free on the Apple App Store or Google Play.
Calm App: The app designed to help you ease stress and get the best sleep of your life through meditations and sleep stories. Join the 85 million people around the world who use Calm to get better sleep. Get 40% off a Calm Premium Subscription (a limited time offer!) by going to www.calm.com/wolf
If you enjoyed this conversation with Koshin Paley Ellison on Becoming Wholehearted, you might also enjoy these other episodes:
Koshin Paley Ellison (Jan, 2017)