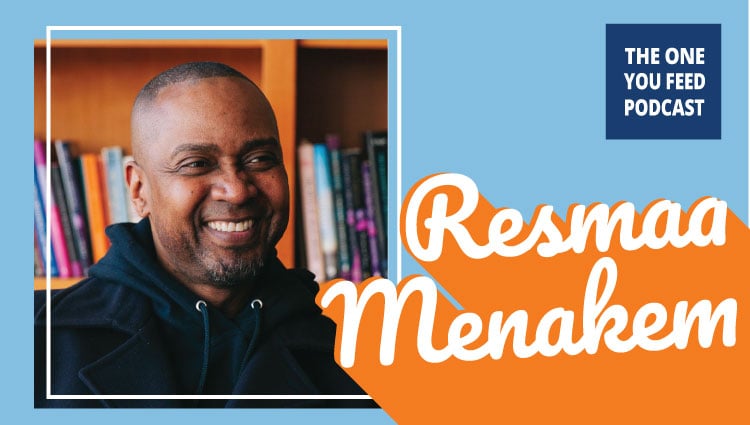 Resmaa Menakem is a therapist with decades of experience who is currently in private practice in Minneapolis, Minnesota. He specializes in trauma, body-centered psychotherapy, and violence prevention. He has also appeared on the Oprah Winfrey Show and Dr. Phil as an expert in conflict and violence.
In this episode, Eric and Resmaa discuss his book, My Grandmother's Hands: Racialized Trauma and the Pathway to Mending our Hearts and Bodies.
But wait – there's more! The episode is not quite over!! We continue the conversation and you can access this exclusive content right in your podcast player feed. Head over to our Patreon page and pledge to donate just $10 a month. It's that simple and we'll give you good stuff as a thank you!
In This Interview, Resmaa Menakem and I Discuss Racialized Trauma and …
His book, My Grandmother's Hands: Racialized Trauma and the Pathway to Mending our Hearts and Bodies
His definition of Trauma: Something that happened too much, too soon, too fast, or too long without something that was reparative
A sense of stuckness as an indicator of Trauma
Racialized Trauma
Looking at White and Black Body Trauma
White body supremacy
Being nice vs. being anti-racist
Tuning into our bodies to heal racial Trauma
Collective healing
The power of not jumping to intellectualizing the wounds that need healing
Resmaa Menakem Links:
Vionic Shoes offers comfortable, stylish, and supportive footwear made with their signature Three-Zone comfort with Ultimate Arch Support technology. They offer a 30-day wear test so if you're not completely satisfied, you can return or exchange after 30 days. Visit vionicshoes.com and enter promo code: WOLF to get free shipping.
Skillshare is an online learning community that helps you get better on your creative journey. They have thousands of inspiring classes for creative and curious people. Sign up via www.skillshare.com/feed and you'll get a FREE one-month trial of Skillshare premium membership.
If you enjoyed this conversation with Resmaa Menakem on Racialized Trauma, you might also enjoy these other episodes:
Deep Transformation with Spring Washam