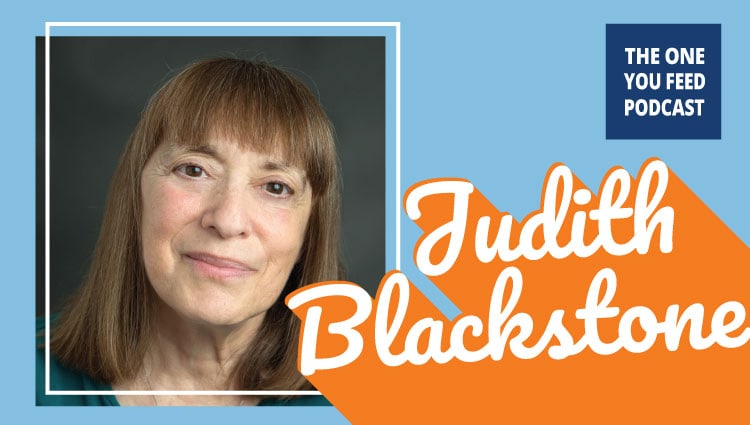 Judith Blackstone is an innovative and experienced teacher in the contemporary fields of non-dual realization and spiritual, relational, and somatic psychotherapy. She developed The Realization Process, which is a direct path for realizing fundamental consciousness. She also teaches the application of non-dual realization for psychological, relational, and physical healing. Judith has taught The Realization Process for over 35 years throughout the United States and Europe. She currently has 6 books in publication including her latest book, Trauma and the Unbound Body: The Healing Power of Fundamental Consciousness.
Need help with completing your goals in 2019? The One You Feed Transformation Program can help you accomplish your goals this year.
But wait – there's more! The episode is not quite over!! We continue the conversation and you can access this exclusive content right in your podcast player feed. Head over to our Patreon page and pledge to donate just $10 a month. It's that simple and we'll give you good stuff as a thank you!
In This Interview, Judith Blackstone and I discuss Healing Trauma through Consciousness and …
Uncovering fundamental consciousness
Attuning to the 3 components of fundamental consciousness: awareness, emotion, and physical sensation
Defining trauma
The way we hold back things that won't be met with approval
How traumatic events cause us to be divided – driving us out of our fundamental nature of wholeness, which is fundamental consciousness
Inhabiting our body vs scanning our body
Releasing trauma through our bodies
Healing trauma through consciousness
Psychological healing in addition to spiritual awakening
The role of memory in healing trauma
Accessing memories through somatic connections
Healing trauma in relation to other people as well as with other people
---
Judith Blackstone Links:
The Great Courses Plus: Are you a life long learner? A perpetually curious person? The Great Courses Plus is an on-demand streaming service that offers courses taught by professors on a whole host of topics such as Human Behavior, Money Management Skills, Black Holes, the History of England and so much more. Eric is currently enrolled in their course called, The Hidden Factor: Why Thinking Differently is Your Greatest Asset. Listeners of the show get a full month of unlimited access to their library for FREE by signing up at www.thegreatcoursesplus.com/wolf
EverlyWell: Offers more than 35 at-home lab tests with super easy to follow instructions. Results are processed in a certified lab and reviewed by board-certified physicians and are then sent directly to you within days. The EverlyWell digital platform helps break down exactly what your results mean for you plus you can also set up a free discussion with a healthcare professional to discuss them. To start learning more about your health, go to everlywell.com/wolf and enter promo code WOLF for 15% off your test
FabFitFun – A women's lifestyle subscription box filled with full-size premium items that you will love. Give yourself (or someone special in your life!) this gift – use the promo code FEED for $10 off your first box at fabfitfun.com
---
If you enjoyed this conversation with Judith Blackstone on Healing Trauma through Consciousness, you might also enjoy these other episodes: