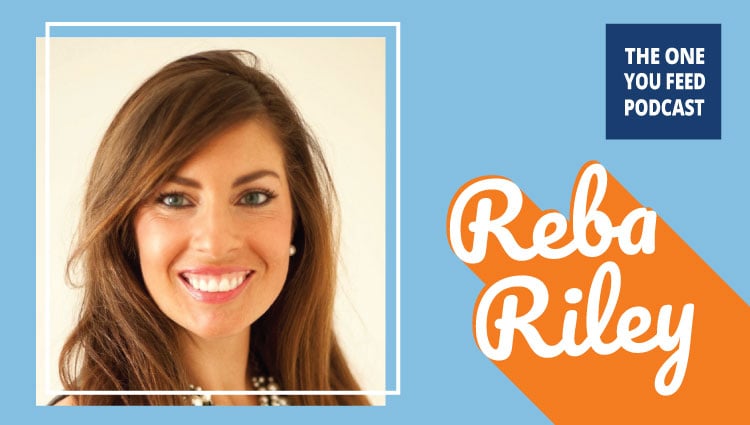 Reba Riley is a blogger, artist, and healer. She travels the world speaking about transformation, courage, health, and healing. Her book, Post Traumatic Church Syndrome: A Memoir of Humor and Healing, is the topic of discussion in this episode. You will be moved and inspired by Reba's story. As it turns out, kindness, love, and bravery really are some of the most powerful forces to harness for healing and hope and that's what she discovered as she explored 30 religions before she turned 30 and battled a deep depression in the years following.
Need help with completing your goals in 2019? The One You Feed Transformation Program can help you accomplish your goals this year.
But wait – there's more! The episode is not quite over!! We continue the conversation and you can access this exclusive content right in your podcast player feed. Head over to our Patreon page and pledge to donate just $10 a month. It's that simple and we'll give you good stuff as a thank you!
In This Interview, Reba Riley and I Discuss Post Traumatic Church Syndrome, and …
Her chronic illness
Facing her anger and bitterness
30 religions before she turned 30
Life being grey when religions answers are often black and white
That love is bigger than everything
Love healing us and bringing us together
Her mothers love through her journey
That wherever she found love (in the 30 religions) she found God
How love and forgiveness have to start in each of us
Looking past beliefs and differences and judgments to find the love that exists
If love rolled up her sleeves and put on her work boots, kindness is what would happen
Kindness is the action, the outpouring, the verb – of love
Kindness is love made visible
Her battle with dark, debilitating depression
Feeling like she had no reason to do anything, no will to live
Using kindness to battle depression
How she did 5000 random acts of kindness over 18 months and it saved her life
The story she hasn't told anywhere else about her relapse of depression
The alchemy of kindness to transform your pain
Couraging = brave as a verb
---
Reba Riley Links:
Peloton: Wondering if a Peloton bike is right for you? You can get a free 30 day home trial and find out. If you're looking for a new way to get your cardio in, the Peloton bike is a great solution. Visit onepeloton.com and enter Promo code "WOLF" to get $100 off of accessories with the purchase of a bike, and a free 30 day home trial.
Nimble: Get great electronics you can feel really good about. Nimble makes premium, everyday tech products (like portable chargers, wireless chargers, protective phone cases and more). They use only sustainable materials, work with ethical factories, and ship in 100% plastic-free packaging. They'll recycle your old electronics, too. To get 25% off your first Nimble order, go to www.gonimble.com/wolf and enter promo code WOLF
The Great Courses Plus: Learn more about virtually any topic – beyond the basics and even master a subject if you want to. Get one month for free at www.thegreatcoursesplus.com/wolf
---
If you enjoyed this conversation with Reba Riley on post traumatic church syndrome, you might also enjoy these other episodes: