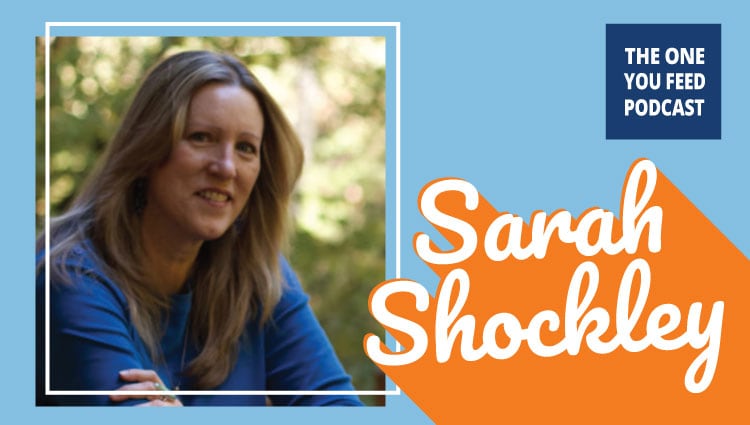 Sarah Shockley is a multiple award-winning producer and director of educational films including Dancing From the Inside Out, a highly acclaimed documentary on disabled dance. Sarah is the author of a number of books on living with chronic pain, including the one discussed in this episode, The Pain Companion: Everyday Wisdom for Living with and Moving Beyond Chronic Pain.
Need help with completing your goals in 2019? The One You Feed Transformation Program can help you accomplish your goals this year.
But wait – there's more! The episode is not quite over!! We continue the conversation and you can access this exclusive content right in your podcast player feed. Head over to our Patreon page and pledge to donate just $10 a month. It's that simple and we'll give you good stuff as a thank you!
In This Interview, Sarah Shockley and I Discuss Living with Chronic Pain and…
How it's hard for us to heal when we're in a battle with pain
The good wolf aspect of pain
Feeding into healing vs feeding in living with chronic pain
Her experience with debilitating pain
The many components of chronic pain – in addition to the physical component
How isolating chronic pain can be
Chronic emotional pain
Seeing pain differently
Turning towards pain and asking it, "What could positively be your positive purpose here?"
What you resist persists
Becoming partners with your pain
Thinking of pain as the voice of something within you that wants to be healed
Creating a different relationship with pain
We lock pain in place when we get into a resistant mode
Giving pain a lot of space
Breathing into the pain
The messages that pain brought her
Asking pain, "What do you need?"
How her life has been transformed by changing her relationship and experience with chronic pain
That she wrote the book she wished she had been given in the midst of her struggle with pain
That being seen in your pain can be the beginning of healing
Living with chronic pain and what she imagined her pain looking like
---
Sarah Shockley Links:
DoorDash – Don't worry about dinner, let dinner come to you with DoorDash. Get $5 off your first order of $15 or more when you download the DoorDash app and enter promo code WOLF
The Great Courses Plus – learn more about virtually any topic – beyond the basics and even master a subject if you want to. Get 3 months of unlimited access to their entire library for just $30. www.thegreatcoursesplus.com/wolf
---
If you enjoyed this conversation with Sarah Shockley on living with chronic pain, you might also enjoy these other episodes: