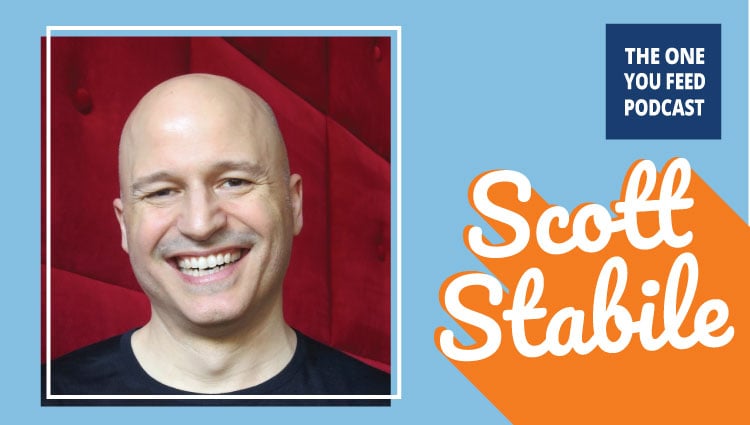 Scott Stabile has amassed a sizable following on social media with his inspirational and provocative quotes, essays, and videos. His previous work includes Big Love, Just Love, Iris, and the Li'l Pet Hospital series. He also wrote a feature film entitled Oogieloves In The Big Baloon Adventure. He's a regular contributor to the Huffington Post and runs empowerment workshops nationally and internationally.
In this episode, Eric and Scott talk about self-love; the myths about it, the things that stand in the way of it, and how we can cultivate more of it.
But wait – there's more! The episode is not quite over!! We continue the conversation and you can access this exclusive content right in your podcast player feed. Head over to our Patreon page and pledge to donate just $10 a month. It's that simple and we'll give you good stuff as a thank you!
In This Interview, Scott Stabile and I Discuss Perfecting Self-Love and …
His game-changing realization that he can show up with love for himself no matter which wolf he's feeding
How he's releasing self-judgment and what he's then left with
That our thoughts create our feelings and it's worthwhile to explore that within ourselves
How we can become addicted to our misery
Expansion as a healthy and healing coping mechanism
His beautifully extreme practice of self-love
How he cultivates peace and ease in his life through his choices
Knowing for ourselves that we can feel our feelings and survive them
The truth that we all have divine, creator energy within us, the same energy that created planets and stars is within us
The relationship between our thoughts and our emotions
The big impact of realizing the ways we are already loving ourselves throughout our day
That the reason we want the things we want is because of how they will make us feel and how we can give ourselves the gift of these feelings now
The things we can do to create more joy and connection in our life
Scott Stabile Links:
Calm App: The app designed to help you ease stress and get the best sleep of your life through meditations and sleep stories. Join the 85 million people around the world who use Calm to get better sleep. Get 40% off a Calm Premium Subscription (a limited time offer!) by going to www.calm.com/wolf
Feals: Premium CBD delivered to your doorstep to help you manage stress, anxiety, pain, and sleeplessness. Feals CBD is food-grade and every batch is tested so you know you are getting a truly premium grade product. Get 50% off your first order with free shipping by becoming a member at www.feals.com/wolf
Aura Digital Security provides digital security protection to keep your online finances, personal information, and tech safe from online threats. To sign up and get 3 months of service for free, visit aura.com/wolf.
If you enjoyed this conversation with Scott Stabile on Perfecting Self-Love, you might also enjoy these other episodes:
Scott Stabile on Mindfulness, Love, and Forgivess (2017(