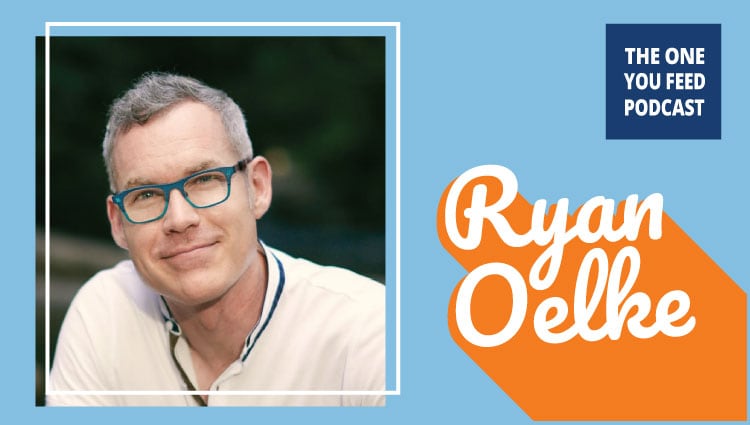 Ryan Oelke is the co-founder of Buddhist Geeks and is the founder of Awakening In Life. Ryan is a meditation teacher with an MS.Ed. in Counseling Psychology and has 18 years of experience in meditation. He is also a certified teacher in Judith Blackstone's Realization Process. In this episode, Ryan and Eric discuss using Radical Curiosity and embodying our experiences to Awaken In Life.
If you are interested in learning more about how to integrate and embody spiritual principles into the moments of your daily life, Eric teaches people how to do just that in his 1-on-1 Spiritual Habits Program. Click here to learn more.
Need help with completing your goals in 2020? The One You Feed Transformation Program can help you accomplish your goals this year.
But wait – there's more! The episode is not quite over!! We continue the conversation and you can access this exclusive content right in your podcast player feed. Head over to our Patreon page and pledge to donate just $10 a month. It's that simple and we'll give you good stuff as a thank you!
In This Interview, Ryan Oelke and I discuss Awakening in Life and…
Practicing Radical Curiosity
Coming home to yourself as you are in this moment
Being radically open to what is happening to fully see it
How nothing collapses consciousness faster than judgment
How being curious implies being engaged with the subject matter
Awakening in Life
Life as the opportunity to awaken
Ways to integrate spiritual principles into the moments of our life
Cultivating capacity through formal practice
How to use the little moments that might otherwise be "thrown away" during the day
That focusing on embodying our experience enables it to become more deeply our own
How awakening in life is a responsive, integral path
A prescriptive path/model vs. a responsive path/model
Having a deep trust in your own experience
Metadharma
That the entire point of waking up in life could be to have an appropriate response.
---
Ryan Oelke Links:
Peloton: Wondering if a Peloton bike is right for you? You can get a free 30 day home trial and find out. If you're looking for a new way to get your cardio in, the Peloton bike is a great solution. Eric decided to buy one after his 30-day free trial. Visit onepeloton.com and enter Promo code "WOLF" to get $100 off of accessories with the purchase of a bike, and a free 30 day home trial.
Best Fiends: Engage your brain and play a game of puzzles with Best Fiends. Download for free on the Apple App Store or Google Play.
Calm App The #1 rated app for meditation. They have meditations, sleep stories, soothing music, and Calm masterclasses with may One You Feed Guests. Get 40% off a Calm Premium Subscription (a limited time offer!) by going to www.calm.com/wolf
---
If you enjoyed this conversation with Ryan Oelke on Awakening in Life, you might also enjoy these other episodes: