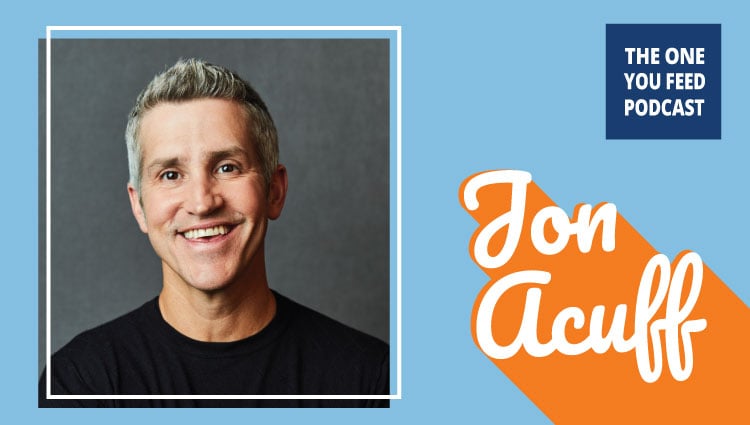 Jon Acuff is a New York Times bestselling author of seven books. He's also an INC Magazine Top 100 Leadership speaker and has spoken to hundreds of thousands of people at conferences and companies around the world, including FedEx, Nissan, Microsoft, Lockheed Martin, and many others.
In this episode, Eric and Jon discuss his new book, Soundtracks: The Surprising Solution to Overthinking
But wait – there's more! The episode is not quite over!! We continue the conversation and you can access this exclusive content right in your podcast player feed. Head over to our Patreon page and pledge to donate just $10 a month. It's that simple and we'll give you good stuff as a thank you!
In This Interview, Jon Acuff and I Discuss Overthinking, Internal Soundtracks, and …
How action eliminates overthinking and inaction breeds overthinking
The importance of deciding as few times as possible
Overthinking is when what you think gets in the way of what you want
Viewing our thoughts as repetitive soundtracks that become our playlist
"Pulling the thread" when processing your feelings
How fear gets a voice but doesn't get a vote
Learning to identify your broken soundtracks
Evaluating your thoughts and asking is it true, is it helpful, is it kind?
Getting support from others can help retire your broken soundtracks
How we can't stop overthinking but we can replace it with another thought
Viewing our thoughts as a dial that we can turn down and not a switch that we can turn off
Finding activities that get you out of your head
Flipping your broken soundtracks to the opposite
The important process of repeating new soundtracks
Finding ways to remind yourself of new soundtracks
Tying new thoughts to a symbol by making it personal, visible, and simple
Jon Acuff Links:
Novo Nordisk – Explore the science behind weight loss and partner with your healthcare provider for a healthy approach to your weight management.
If you enjoyed this conversation with Jon Acuff, you might also enjoy these other episodes:
Perfecting Self-Love with Scott Stabile
Neuropsychology and the Thinking Mind with Dr. Chris Niebauer