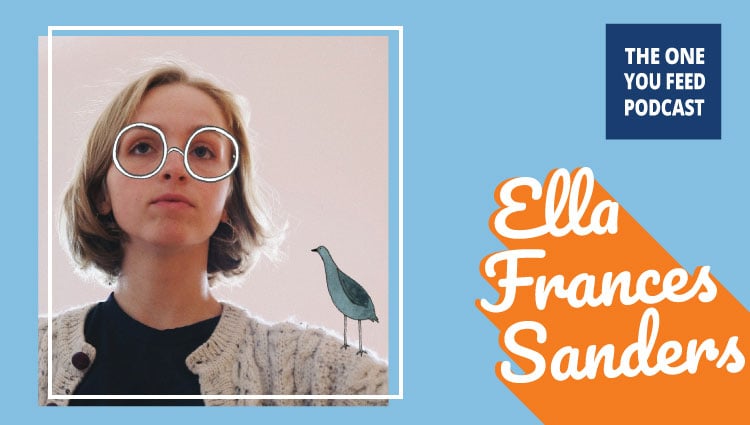 Ella Frances Sanders is an internationally-bestselling author and illustrator of three books. Her third book, Eating the Sun: Small Musings on a Vast Universe, was the recipient of the 2019 Whirling Prize for Prose and has been translated into many languages.
In this episode, Eric and Ella have a delicious conversation about this lovely book that contains all sorts of interesting facts and beautiful illustrations about our universe and how we as humans relate to such things.
But wait – there's more! The episode is not quite over!! We continue the conversation and you can access this exclusive content right in your podcast player feed. Head over to our Patreon page and pledge to donate just $10 a month. It's that simple and we'll give you good stuff as a thank you!
In This Interview, Ella Frances Sanders and I Discuss her Musings on a Vast Universe and…
Her take on the wolf parable and how it's about choosing possibility over panic
How moving slowly helps us notice a lot of what's good
Our relationship to plants and to the sun
How giving plants human characteristics helps us connect and care about them
The challenge in understanding the scale of things
We see things through filters without thinking about it
How science works with laws and things that we know are true
Our choices are affected by how we are influenced by the world around us
How the universe is moving toward ultimate chaos
Our memories are susceptible to alterations and get filtered through the present moment
How we are only remembering the last time we remembered
Stressful situations can affect memory
The half-life of facts is the amount of time it takes for a fact to become untrue
Ella Frances Sanders Links:
Indeed: Helps you find high impact hires, faster, without any long term contracts and you pay only for what you need. Get started with a free $75 credit to boost your job post and get in front of more quality candidates by going to www.indeed.com/wolf
Transparent Labs offer a variety of supplements and protein powders that include science-based ingredients and have no sugar, fat, lactose, artificial colors, or sweeteners. Check out Eric's favorite, 100% Grass-Fed Whey Isolate that comes in many delicious flavors. Visit transparentlabs.com and use Promo code WOLF to receive 10% off your order.
Best Fiends: Engage your brain and play a game of puzzles with Best Fiends. Download for free on the Apple App Store or Google Play.
If you enjoyed this conversation with Ella Frances Sanders on Musings on a Vast Universe, you might also enjoy these other episodes: