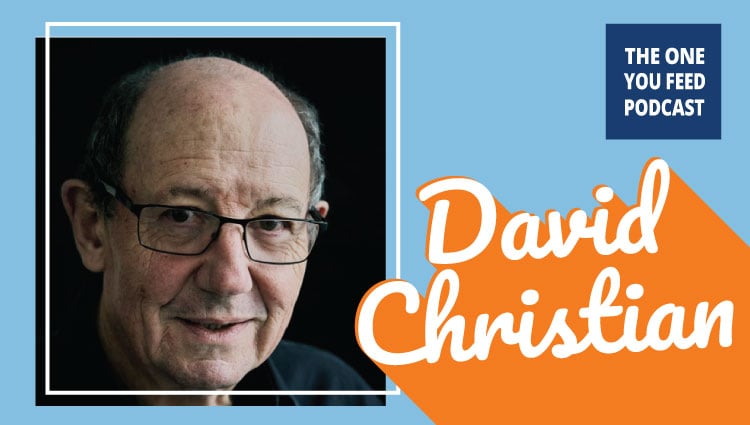 David Christian is a Distinguished Professor of History at Macquarie University and director of the school's Big History Institute, which he founded with Bill Gates. David has delivered keynotes at conferences around the world including the Davos World Economic Forum and his TedTalk has been viewed more than 7 million times. He's the author of numerous books and articles including the book we discuss in this episode, Origin Story: A Big History of Everything. This episode is truly awe-inspiring, fascinating and mind-blowing.
Need help with completing your goals in 2019? The One You Feed Transformation Program can help you accomplish your goals this year.
But wait – there's more! The episode is not quite over!! We continue the conversation and you can access this exclusive content right in your podcast player feed. Head over to our Patreon page and pledge to donate just $10 a month. It's that simple and we'll give you good stuff as a thank you!
In This Interview, David Christian and I Discuss A Big History of Everything and…
Looking for the balance in dualities
What an origin story means to him as well as the guidance it offers
How modern society has lost touch with origin stories
Linking knowledge together as well as telling an ancient origin story using modern science
Knowing who you are, where you are and what challenges you face
Having a deep sense of awe for how things are as well as The story line of increasing complexity
What we know & don't know about The Big Bang
Pure potentiality becoming energy and matter
Everything that has ever been came from something that started 13.8 billion years ago, and was a million times smaller than the period at the end of a sentence.
Emergence of stars, planets, and life happened
Cells acting with purpose and preference and how collaboration and specialization is inherent.
The origin of life and the appearance of humans, as well as the unique contribution that human beings that make the emergence of our species are all transformative events on the planet Earth.
The impact of our utilization of fossil fuels
---
David Christian Links:
Feals: Premium CBD delivered to your doorstep to help you manage stress, anxiety, pain, and sleeplessness. Feals CBD is food-grade and every batch is tested so you know you are getting truly premium grade product. Get 50% off your first order with free shipping by becoming a member at www.feals.com/wolf
Calm App: The #1 rated app for meditation. They have meditations, sleep stories, soothing music, and Calm masterclasses with may One You Feed Guests. Get 40% off a Calm Premium Subscription (a limited time offer!) by going to www.calm.com/wolf
Phlur: Get a luxurious scent made with transparent, clean ingredients. Eric created his own sampler set that you can try! Get this curated sampler set or create your own. Get 20% off your first Phlur sampler set at www.phlur.com/wolf
---
If you enjoyed this conversation with David Christian on A Big History of Everything, you might also enjoy these other episodes: