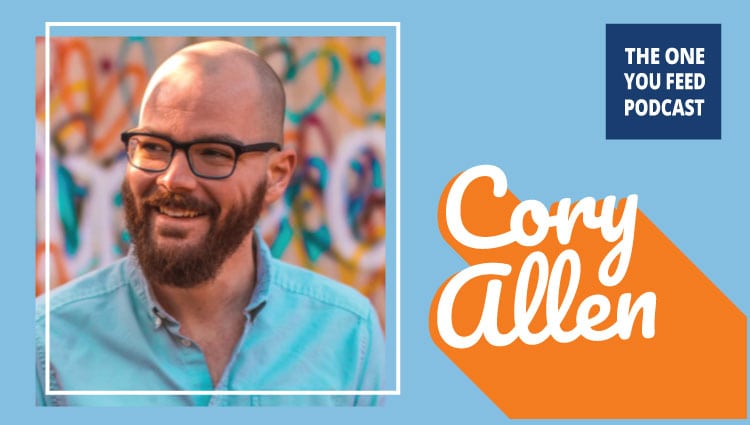 Cory Allen is a writer, musician, and the creator of the podcast, The Astral Hustle. He focuses on how to live better with leading experts in mindfulness, neuroscience, and philosophy. In Cory's first appearance on the show, he discussed his book Now is the Way. Today, Eric and Cory discuss.
In this episode, Eric and Cory Allen discuss
Get Text Messages from Eric that will remind and encourage you to help stay on track with what you're learning from the week's episodes released on Tuesdays and Fridays. To sign up for these FREE text message reminders, go to oneyoufeed.net/text.
But wait – there's more! The episode is not quite over!! We continue the conversation and you can access this exclusive content right in your podcast player feed. Head over to our Patreon page and pledge to donate just $10 a month. It's that simple and we'll give you good stuff as a thank you!
Cory Allen and I Discuss and…
How we are always reacting to our situations
Mistaking our reactions for who we are
Understanding our identity and where it comes from
What we're really looking for when we seek material wealth
The pull of not feeling satisfied and constantly seeking satisfaction
Differentiating our identity and our wanting
Overwhelm is what leads to difficulty overwriting our impulses
The value of meditation and mindfulness to calm the body
The importance of exercise and nourishing the body
How exercise and meditation complement each other
The power of assertiveness when facing the challenge of change
Self discipline is about giving yourself freedom from being controlled
His work creating binaural beats and the effects of the vibrational sounds
Cory Allen links:
When you purchase products and/or services from the sponsors of this episode, you help support The One You Feed. Your support is greatly appreciated, thank you!
If you enjoyed this conversation with Cory Allen, you might also enjoy these other episodes:
Cultivating Mindfulness with Cory Allen (2020)