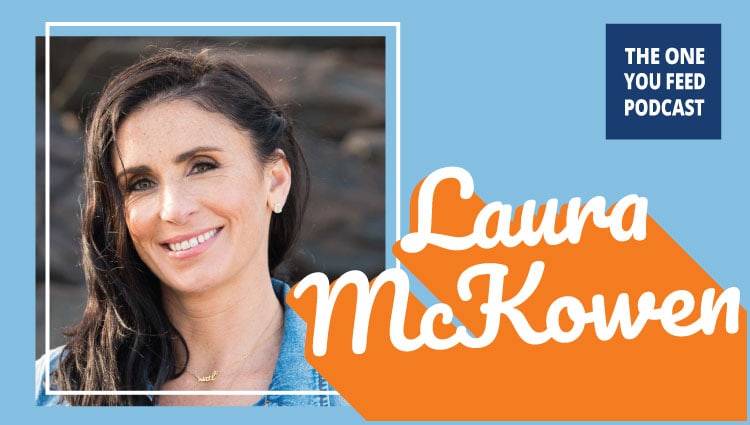 Laura McKowen is an author, award winning blogger and host of Spiritualish, a show that provides an irreverent take on self help. She has been featured on WebMD, the New York Post, Bravo, the Today Show, and more. Laura also hosts sold out retreats and courses teaching people to say Yes to a bigger life. In this episode, she and Eric discuss her newest book, "We are the Luckiest, the Surprising Magic of a Sober Life"
You can find all of the most up to date crisis help & support resources that Eric is making available through The One You Feed by going to www.oneyoufeed.net/help
The wisdom and practice of self-compassion is a foundational principle that Eric teaches and helps his private clients learn to apply through the 1-on-1 Spiritual Habits Program. To learn more about this program, click here.
Need help with completing your goals in 2020? The One You Feed Transformation Program can help you accomplish your goals this year.
But wait – there's more! The episode is not quite over!! We continue the conversation and you can access this exclusive content right in your podcast player feed. Head over to our Patreon page and pledge to donate just $10 a month. It's that simple and we'll give you good stuff as a thank you!
In This Interview, Laura McKowen and I Discuss the Magic of Being Sober and…
Addiction isn't about will power or being bad
How we as humans are "magnificent monsters" in that we all have light and dark inside of us
Being in a liminal space is where transformation takes place.
Looking at challenging times and asking "What is this trying to teach me?"
Embracing the mystery of not knowing
How addiction demands everything
Having a "split mind" – the conflict of wanting to drink and knowing that you shouldn't
The cognitive dissonance between who we think we are and what we're doing
Being afraid of how you'll feel when you're not drinking
Understanding that sobriety gets better, then it gets worse, then it's different
Her experience with AA and the positive and negative aspects of this recovery program
The importance of dealing with the physical body in recovery
The fear of "aloneness" and not having a home within ourselves
Dealing with the ongoing struggle and need to be fixed or saved by someone
Learning to not being afraid of herself and starting to build self esteem and dignity
Laura McKowen Links:
Grammarly: The digital writing tool that you can rely on to get your message across clearly, effectively, and correctly. It works where you work: in Gmail, Google Docs, Slack and many other platforms. Get 20% off Grammarly Premium when you sign up at www.grammarly.com/feed
Cryo-freeze CBD Roll-On by Omax Health: Quick, effective, and long-lasting relief from joint and muscle aches and pains. Enter promo code WOLF to get 20% off and free shipping of any Omax Health product at www.omaxhealth.com
If you enjoyed this conversation with Laura McKowen on the Magic of Being Sober, you might also enjoy these other episodes: