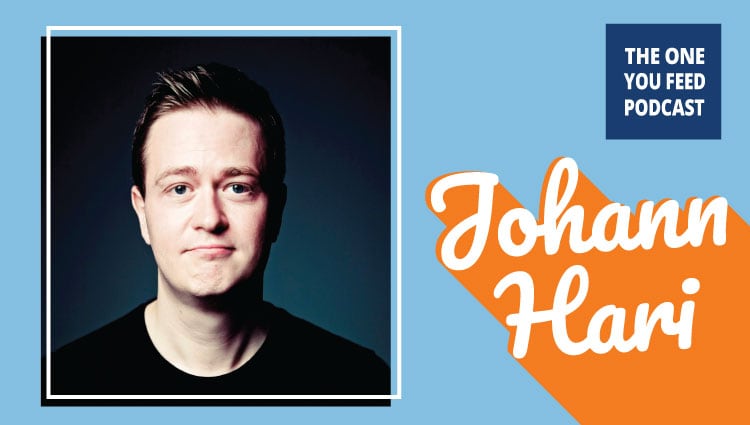 Johann Hari is the New York Times bestselling author of Chasing the Scream, which has been adapted into a feature film. Johann was twice named 'National Newspaper Journalist of the Year' by Amnesty International UK He has written for the New York Times, the Los Angeles Times, and many other publications. His latest book is Lost Connections: Uncovering the Real Causes of Depression and the Unexpected Solutions,
In this episode, Johann and Eric discuss his book that proposes a more holistic, societal look at the causes and treatment of depression.
But wait – there's more! The episode is not quite over!! We continue the conversation and you can access this exclusive content right in your podcast player feed. Head over to our Patreon page and pledge to donate just $10 a month. It's that simple and we'll give you good stuff as a thank you!
In This Interview, Johann Hari and I Discuss Lost Connections and …
His new book, Lost Connections: Uncovering the Real Causes of Depression and the Unexpected Solutions
The two kinds of human connection
Intrinsic (internal) and extrinsic (external) motivations
"Junk" values
The more you're driven by extrinsic values, the more likely you'll suffer from anxiety and depression in your life
Our society drives us to live in this extrinsic way
The whole point of advertising is to make us feel inadequate and our problems can be solved by buying
Extrinsic motives can crowd out the more fulfilling intrinsic motives
The 9 causes of depression and anxiety
The need to look more holistically at anxiety and depression than just a chemical imbalance
The loneliest culture that has ever been
The importance of addressing the deep environmental factors/reasons why we're so depressed and anxious
Our sense of home and sense of belonging
The problems manifested by being isolated and alone and the benefit of being part of a "tribe"
Realizing that you're not the only one who struggles and feels the way you do
Grief and the diagnosis of depression
Just having a chemical imbalance means your pain doesn't have meaning
Depression and not having your needs met
Following the pain to its source
Pathologizing Depression
Johann Hari Links:
Talkspace is the online therapy company that lets you connect with a licensed therapist from anywhere at any time at a fraction of the cost of traditional therapy. It's therapy on demand. Visit www.talkspace.com or download the app and enter Promo Code: WOLF to get $100 off your first month.
Calm App: The app designed to help you ease stress and get the best sleep of your life through meditations and sleep stories. Join the 85 million people around the world who use Calm to get better sleep. Get 40% off a Calm Premium Subscription (a limited time offer!) by going to www.calm.com/wolf
If you enjoyed this conversation with Johann Hari, you might also enjoy these other episodes: