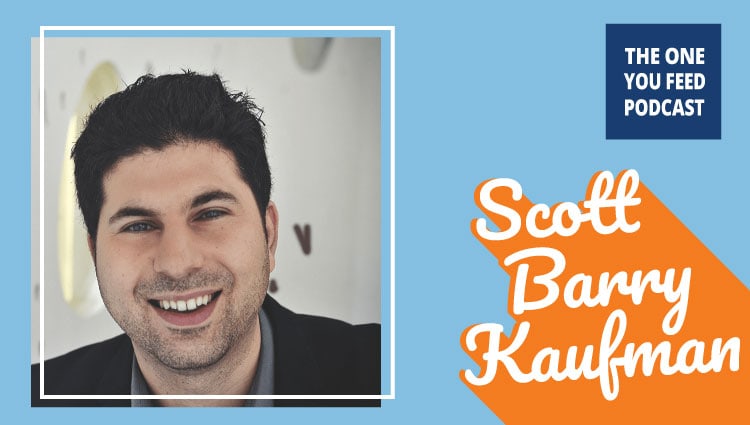 Scott Barry Kaufman is a cognitive scientist interested in the development of intelligence, creativity, and personality. He applies a variety of perspectives to come to a richer understanding and appreciation of all kinds of minds and ways of achieving greatness. In this episode, he and Eric discuss his book, Transcend: The New Science of Self Actualization. They discuss many ways in which we can go beyond coping and, instead, set our sights a bit higher to thrive in our day to day life, regardless of the circumstances. Scott Barry Kaufman shows us how the ordinary life is always, at its heart, the extraordinary life.
You can find all of the most up to date crisis help & support resources that Eric is making available through The One You Feed by going to www.oneyoufeed.net/help
The wisdom and practice of self-compassion is a foundational principle that Eric teaches and helps his private clients learn to apply through the 1-on-1 Spiritual Habits Program. To learn more about this program, click here.
Need help with completing your goals in 2020? The One You Feed Transformation Program can help you accomplish your goals this year.
But wait – there's more! The episode is not quite over!! We continue the conversation and you can access this exclusive content right in your podcast player feed. Head over to our Patreon page and pledge to donate just $10 a month. It's that simple and we'll give you good stuff as a thank you!
In This Interview, Scott Barry Kaufman and I discuss Living a Transcendent Life and…
That the way you frame a question can influence how you feel
How to take the leap towards growth so that your focus is no longer on simply coping
The idea of spending our days in transcendent ways
What it means to cope
The detrimental path of Experiential Avoidance
The importance of integrating everything that's happening right now within yourself
How to view your personal growth opportunities while others are suffering
The difference between those who are creative amidst uncertainty and those who struggle to be creative in the same conditions
Being open to embracing new experiences by letting go of the need for control
Going right to the heart of the fears that you have so that you can make peace with them
That we don't grow all at once and in a linear way
Identifying what needs aren't being met so we can meet them and not overcompensate in detrimental ways
How our needs are interconnected with one another
How to see the extraordinary in the ordinary
"Healthy Selfishness"
Awe as a state of consciousness
The Unitary Continuum
Scott Barry Kaufman Links:
Daily Harvest: Delivers absolutely delicious organic, carefully sourced, chef-created fruit and veggie smoothies, soups, overnight oats, bowls, and more. To get $25 off your first box go to www.dailyharvest.com and enter promo code FEED
Skillshare is an online learning community that helps you get better on your creative journey. They have thousands of inspiring classes for creative and curious people. Get 2 FREE months of premium membership at www.skillshare.com/feed
Best Fiends: Engage your brain and play a game of puzzles with Best Fiends. Download for free on the Apple App Store or Google Play.
If you enjoyed this conversation with Scott Barry Kaufman on Living a Transcendent Life, you might also enjoy these episodes: