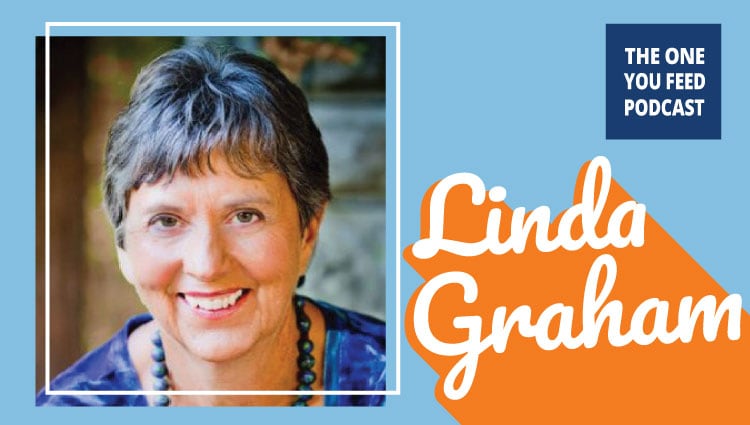 Linda Graham is a licensed marriage and family therapist and her work focuses on helping people strengthen capacities to cope with the challenges and crises of their lives. She also helps people recover an authentic sense of self, deepen into healthy relationships and engage with the world through meaningful, purposeful work. Her book is Resilience: Powerful Practices for Bouncing Back from Disappointment, Difficulty, and Even Disaster. In this episode, she and Eric talk about the neuroscience of resilience and specific ways to strengthen our resilience, no matter our starting point. When life gets difficult, this episode will teach you how to cultivate your resilience, bounce back and grow stronger.
Need help with completing your goals in 2020? The One You Feed Transformation Program can help you accomplish your goals this year.
But wait – there's more! The episode is not quite over!! We continue the conversation and you can access this exclusive content right in your podcast player feed. Head over to our Patreon page and pledge to donate just $10 a month. It's that simple and we'll give you good stuff as a thank you!
In This Interview, Linda Graham and I Discuss Strengthening our Resilience and…
Her book, Resilience: Powerful Practices for Bouncing Back from Disappointment, Difficulty, and Even Disaster
The neuroscience of resilience
All emotions are signals to pay attention and take wise action
How emotions run through our nervous system in about 20 seconds, unless we feed them with stories and with habitual patterns of response
If we can allow difficult emotions and have compassion for ourselves for feeling them, we can shift the patterns in our brain away from that contracted state and into a more open state – the outcome is resilience
What resilience is
Response flexibility
How you respond to the issue, IS the issue
The severity of the stressor and the strength of our external resources
Our own internal resources
Differentiating between our perception and our response
How our attitude is a filter that our perception goes through
Cultivating a resilience mindset
The factors that influence our brain's response flexibility. as well as how we can re-wire our brain's response flexibility
How to create new patterns of responding to difficulty
The default mode network
Practices to strengthen resilience as well as a practice to calm a panic attack in under 1 minute
The things that accelerate brain change
Changing every "should" to a "could"
That "should" creates contraction in the brain whereas "could" creates openness and possibility in the brain
Pausing to remember that we can be resilient and asking yourself "What story am I believing now?"
How triggers become trailheads
---
Linda Graham Links:
Calm App: The #1 rated app for meditation. They have meditations, sleep stories, soothing music, and Calm masterclasses with many One You Feed Guests. Get 40% off a Calm Premium Subscription (a limited time offer!) by going to www.calm.com/wolf
Daily Harvest: Delivers absolutely delicious organic, carefully sourced, chef-created fruit and veggie smoothies, soups, overnight oats, bowls and more. To get $25 off your first box go to www.dailyharvest.com and enter promo code FEED
---
If you enjoyed this conversation with Linda Graham on Strengthening our Resilience, you might also enjoy these other episodes: