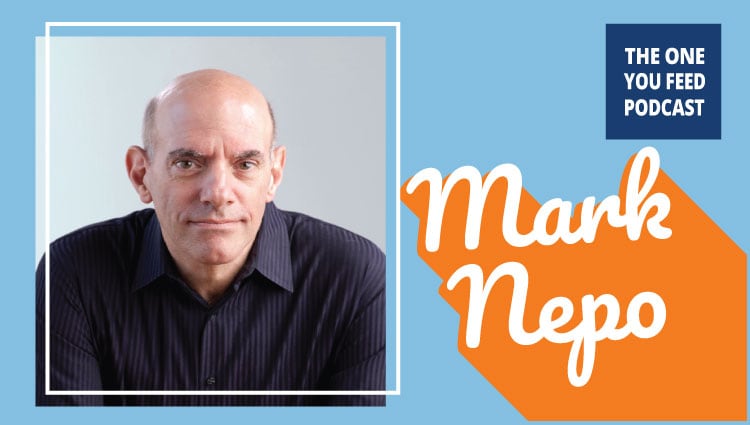 Mark Nepo is a poet, philosopher and cancer survivor who has taught in the fields of poetry, health, and spirituality for 40 years. Mark is a New York Times #1 selling author who has published numerous books and audio projects. In this episode, Eric and Mark discuss his book, The Book of Soul: 52 Paths to Living What Matters. This episode is a tonic to the suffering that we are facing right now in the midst of a pandemic. This conversation offers some of the most liberating wisdom that, when connected to, releases us from the grip of fear so that we are living from a place of presence, peace, and connecting to what matters.
You can find all of the most up to date crisis help & support resources that Eric is making available through The One You Feed by going to www.oneyoufeed.net/help
The wisdom and practice of self-compassion is a foundational principle that Eric teaches and helps his private clients learn to apply through the 1-on-1 Spiritual Habits Program. To learn more about this program, click here.
Need help with completing your goals in 2020? The One You Feed Transformation Program can help you accomplish your goals this year.
But wait – there's more! The episode is not quite over!! We continue the conversation and you can access this exclusive content right in your podcast player feed. Head over to our Patreon page and pledge to donate just $10 a month. It's that simple and we'll give you good stuff as a thank you!
In This Interview, Mark Nepo and I discuss Connecting to What Matters and…
His new book, The Book of Soul: 52 Paths to Living What Matters
The value in cooperating, listening and working with things (rather than trying to bend them to our will)
That "sin", as literally translated, is the same as "opaque" or, "not seeing"
That when we lose sight of the vastness to which we belong, succumbing to our narrow condition, we paint everything with the color of our trouble
How the surface of the ocean is what's choppy and as we go down below the surface, we connect with the depth that is less tumultuous
"Rightsizing" our perspective on troubles by putting them in a larger perspective of vastness and wholeness
How to move at the pace of what is real: synchronizing the moving pace of mind, heart, and body
That the power of reading out loud is like the difference between reading sheet music and hearing it in our heads vs. actually playing the music
That we meditate not to be great meditators, but to be clear vessels
How we've become "addicted to the noise of things falling apart"
That things are always simultaneously falling apart and coming together
We are challenged to honor what we're going through while at the same time remembering that what we're going through doesn't define us
Asking "What is actually happening?" so we might identify right action
Waiting for the cloud of fear to pass so that you can decipher what is actually dangerous
How in the modern world we have catastrophized our relationship to the unknown
That the unknown can produce love and beauty just as it can produce difficulty and hardships
The truth that there is no "there", there's only "here"
That often, when you can't leave a difficult situation, you realize that everything you need is right here
The menacing assumption that life is somewhere other than where we are
That out of fear, we make a god of survival. But without thriving, what's the point?
Mark Nepo Links:
Beet Elite: Helps you to go further and longer when taken before your workout. www.livehuman.com/wolf to get 20% off your 1st purchase
SimpliSafe: Get comprehensive protection for your entire home with security cameras, alarms, sensors as well as fire, water, and carbon monoxide alerts. Visit simplisafe.com/wolf Free shipping and a 60-day risk-free trial.
Skillshare is an online learning community that helps you get better on your creative journey. They have thousands of inspiring classes for creative and curious people. Get 2 FREE months of premium membership at www.skillshare.com/feed
If you enjoyed this conversation with Mark Nepo on Connecting to What Matters, you might also enjoy these other episodes: