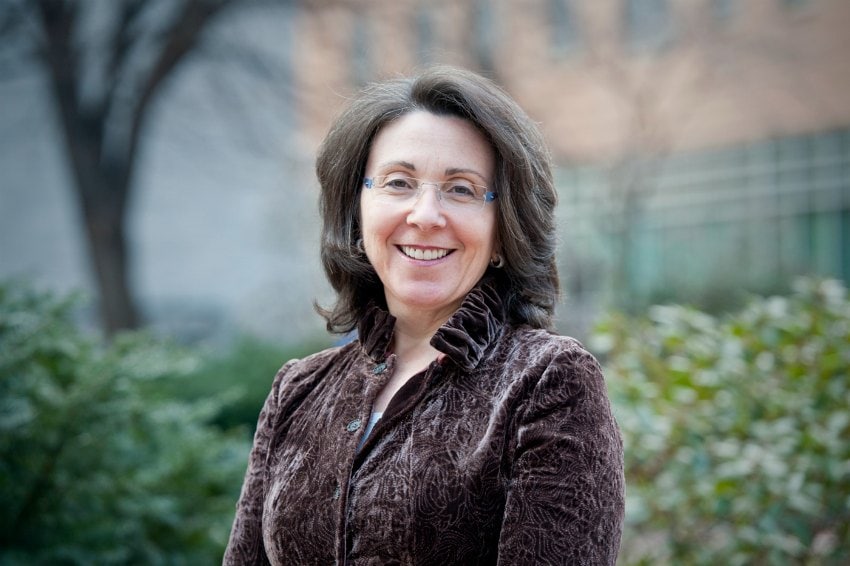 Podcast: Download
Have you ever wondered how emotions are made in our brains? This conversation with Lisa Feldman Barrett will explain this and more and as a result, you will be astounded. Full of scientifically backed concepts that you've probably never heard before, your view on how your brain manages how you feel at any given moment will be totally changed after hearing what this author and researcher has to say.

This week we talk to Lisa Feldman Barrett
Lisa Feldman Barrett, PhD, is a University Distinguished Professor of Psychology at Northeastern University, with appointments at Harvard Medical School and Massachusetts General Hospital. In addition to the book How Emotions are Made: The Secret Life of the Brain, Dr. Barrett has published over 200 peer-reviewed, scientific papers appearing in Science, Nature Neuroscience, and other top journals in psychology and cognitive neuroscience, as well as six academic volumes published by Guilford Press.
Dr. Barrett received a National Institutes of Health Director's Pioneer Award for her revolutionary research on emotion in the brain. These highly competitive, multi-million dollar awards are given to scientists of exceptional creativity who are expected to transform biomedical and behavioral research.
Among her many accomplishments, Dr. Barrett has testified before Congress, presented her research to the FBI, consulted to the National Cancer Institute, appeared on Through The Wormhole with Morgan Freeman, and been a featured guest on public television and worldwide radio programs. She is also an elected fellow of Canada's most prestigious national organization of scholars, the Royal Society of Canada (analogous to the National Academy in the United States).
In This Interview,

 Lisa Feldman Barrett and I Discuss…
The Wolf Parable
The myth of the lizard brain
Emotions don't live anywhere in the brain
Neurons being multi purpose
The idea of degeneracy
How complex emotions are
Multi purpose ingredients in your brain (like in recipes)
Our brains predict, rather than react, to the next immediate moment (those are our emotions and subsequent actions)
Confirming or Correcting those guesses (or concepts) based on your past experiences
How this process is your brain is trying to make sense of the sensory input of your body in the world
How it's more efficient to guess in advance and correct in response than it is to react
The importance of keeping your body's energy budget in balance
We see the world as we believe it to be, through our concepts
Interoception – feedback from your body on how it's systems are working
Your brain is trying to anticipate what your body is going to need and then provide what's necessary to meet those needs before they arise
Tragic Embodiment
Most of the time you don't feel sensations from your body in a very precise way and if you do, you feel them in simple terms – "affect"
More intense sensations are used to make emotions whereas less intense ones are used to make thoughts and other things
How illness is an imbalance in systems in your body and how we experience it
How basic body sensations are the cause of our emotions and how we feel
How every waking moment of your life is simultaneously physical and mental
When your body budget is out of balance/disrupted, you will feel distressed
Reframing the feeling of anxiety as "preparing for something tough" and this is a good sign that your body is preparing for something tough
Take care of yourself and your body to feel better (sleep, eat, nutrition)
Understanding emotion and being more granular in our description is helpful because we better know what to do or not to do about it
When you're depressed or anxious, the distress is not helpful if you personalize it
Lisa Feldman Barrett Links
A grandfather is talking with his grandson and he says there are two wolves inside of us which are always at war with each other. 
One of them is a good wolf which represents things like kindness, bravery and love. The other is a bad wolf, which represents things like greed, hatred and fear.
The grandson stops and thinks about it for a second then he looks up at his grandfather and says, "Grandfather, which one wins?"
The grandfather quietly replies, the one you feed 
The Tale of Two Wolves is often attributed to the Cherokee indians but there seems to be no real proof of this. It has also been attributed to evangelical preacher Billy Graham and Irish Playwright George Bernard Shaw. It appears no one knows for sure but this does not diminish the power of the parable.
This parable goes by many names including:
The Tale of Two Wolves
The Parable of the Two Wolves
Two Wolves
Which Wolf Do You Feed
Which Wolf are You Feeding
Which Wolf Will You Feed
It also often features different animals, mainly two dogs.