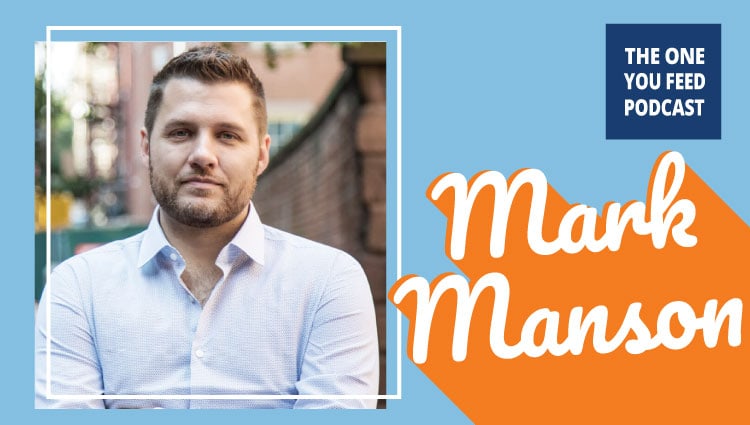 Stressed by Holiday Expectations?
Join Eric and The One You Feed Community for a FREE online gathering on November 30th at 8pm Eastern Time. (Recording will be available for 72 hours)
In this free live event, Eric will teach a Spiritual Habit that will allow you to release these types of stress and touch into a deeper feeling of wholeness, peace, steadiness, and presence. Register Now!
In case you're just recently joining us, or however long you've been a listener of the show, you may not realize that we have over 7 years of incredible episodes in our archive! We've had so many wonderful guests that we decided to handpick one of our favorites that may be new to you, but if not, is definitely worth another listen!
Mark Manson is an author and personal development consultant. His writing is a different take on the self-help genre that he calls self-help from a first-person perspective. Mark has been published and quoted on CNN, Huffington Post, Business Insider, Yahoo! News, The Sydney Morning Herald, and a variety of other publications. He is also the CEO and Founder of Infinity Squared Media LLC.
But wait – there's more! The episode is not quite over!! We continue the conversation and you can access this exclusive content right in your podcast player feed. Head over to our Patreon page and pledge to donate just $10 a month. It's that simple and we'll give you good stuff as a thank you!
Mark Manson and I Discuss Important Lessons in Life and …
Opportunity costs and being aware of the sacrifices
His most popular article, The Subtle Art of Not Giving a F*&
The misconception of confidence
The friendship test in romantic relationships
How he applies logic in his writing
Positive thinking and his issue with "The Secret"
How inspiration often comes from taking action
His "Do Something" principle
Mistaking happiness for pleasure
How true happiness comes from the meaning of our experiences
Our need to always be challenged in life
How our pursuits change as we get older
His article on Ken Wilbur, an American philosopher
Mark Manson Links:
If you enjoyed this conversation with Mark Manson, you might also enjoy these other episodes:
Everyday Courage with Ryan Holiday