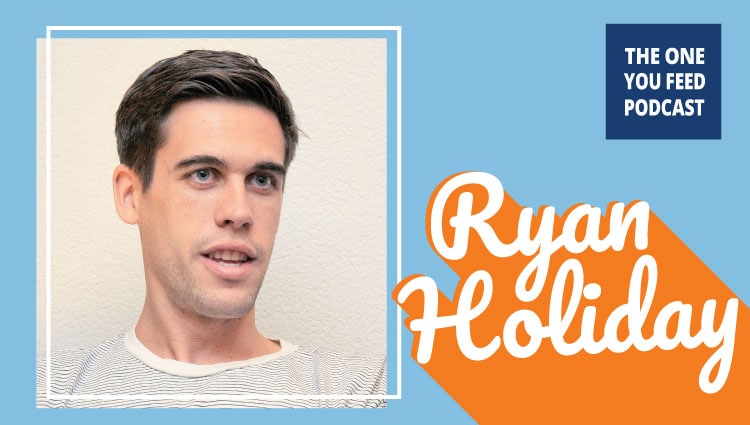 Ryan Holiday is one of the world's foremost thinkers and writers on ancient philosophy and its place in everyday life. He's a sought-after speaker, strategist, and the author of many best-selling books.
In this episode, Eric and Ryan discuss his book, Courage is Calling: Fortune Favors the Brave
But wait – there's more! The episode is not quite over!! We continue the conversation and you can access this exclusive content right in your podcast player feed. Head over to our Patreon page and pledge to donate just $10 a month. It's that simple and we'll give you good stuff as a thank you!
Enrollment for the Spiritual Habits Group Program is now open through October 12. Click here to learn more and signup!
In This Interview, Eric and Ryan Holiday Discuss Everyday Courage and …
The 4 cardinal virtues that a good life depends on
Courage, both physical and moral, is the willingness to put yourself at risk
How fear gets in the way of courage
Learning to get specific with our fears
Courage is also about sharing our vulnerabilities with others
The importance of just getting started
How courage requires making decisions
Determining and gaining clarity on our personal values
Stoicism and how it encompasses the core virtues
Similarities and differences between Buddhism and Stoicism
Heroism goes beyond courage, doing something for the greater good or greater than oneself
How it requires courage to have belief and hope that things can change for the better
His courage to open a bookstore in the midst of the pandemic
Ryan Holiday Links:
Feals: Premium CBD delivered to your doorstep to help you manage stress, anxiety, pain, and sleeplessness. Feals CBD is food-grade and every batch is tested so you know you are getting a truly premium grade product. Get 50% off your first order with free shipping by becoming a member at www.feals.com/wolf
If you enjoyed this conversation with Ryan Holiday, you might also enjoy these other episodes:
How to be Fearless with Jessica Hagy