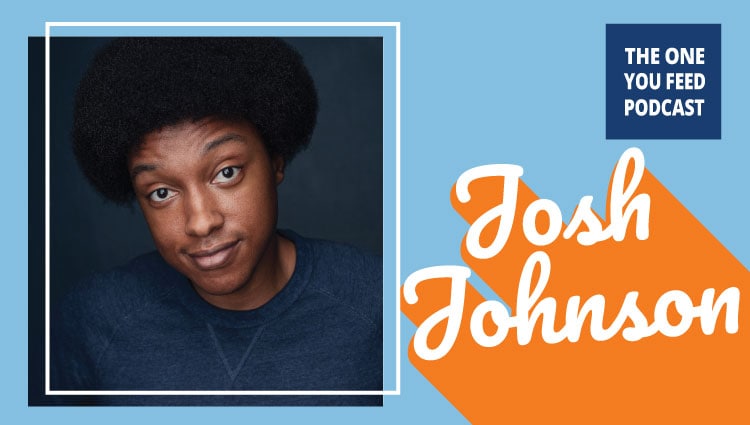 Josh Johnson is a comedian and an Emmy-nominated writer. He is currently a writer on The Daily Show with Trevor Noah and a former writer and performer on The Tonight Show Starring Jimmy Fallon. Josh was named New York's Funniest Comic at the New York Comey Festival in 2018.
In this episode, Josh Johnson and Eric talk about comedy and how humor can facilitate healing, understanding, and our connection with one another.
But wait – there's more! The episode is not quite over!! We continue the conversation and you can access this exclusive content right in your podcast player feed. Head over to our Patreon page and pledge to donate just $10 a month. It's that simple and we'll give you good stuff as a thank you!
In This Interview, Josh Johnson and I Discuss Humor and Healing and…
The duality of being human
Using humor as a coping mechanism that can facilitate healing
How when you laugh you feel no pain
That levity can strip something of its power over us
What it means to be truly content
The role of comedy in his life
The relationship between objectivity and comedy
How he'd rather try and fail on stage than not try something out of fear
The prevalence of mental health issues in comedians
The way humor can change our perspectives
How he approaches depressive episodes in his own life
How skewed our feedback can be based on who surrounds us
Josh Johnson Links:
Indeed: Helps you find high impact hires, faster, without any long term contracts and you pay only for what you need. Get started with a free $75 credit to boost your job post and get in front of more quality candidates by going to www.indeed.com/wolf
Best Fiends: Engage your brain and play a game of puzzles with Best Fiends. Download for free on the Apple App Store or Google Play.
Talkspace: the online therapy company that lets you connect with a licensed therapist from anywhere at any time. Therapy on demand. Non-judgemental, practical help when you need it at a fraction of the cost of traditional therapy. Visit www.talkspace.com and enter Promo Code: WOLF to get $100 off your first month.
If you enjoyed this conversation with Josh Johnson on Healing and Humor, you might also enjoy these other episodes: