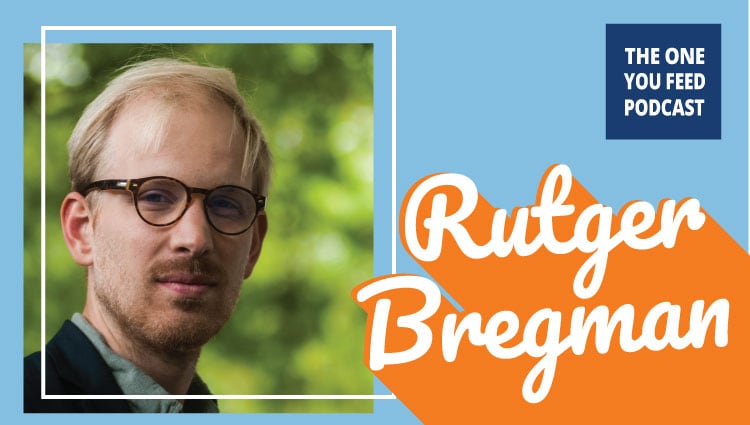 Rutger Bregman is one of Europe's most prominent young thinkers. A historian and author, Rutger has published several books on history, philosophy, and economics. His book, History of Progress, was awarded the Belgian Liberales Prize for best nonfiction book of 2013.
In this episode, Eric and Rutger discuss his book Humankind: A Hopeful History, where they delve into the scientific, historical, and philosophical components of human nature.
If you need help with or are looking for support in working with your thoughts, emotions, and behaviors, check out The One You Feed Coaching Program. To learn more and to schedule a free 30-minute call with Eric, visit oneyoufeed.net/coach
But wait – there's more! The episode is not quite over!! We continue the conversation and you can access this exclusive content right in your podcast player feed. Head over to our Patreon page and pledge to donate just $10 a month. It's that simple and we'll give you good stuff as a thank you!
In This Interview, Rutger Bregman and I Discuss Human Nature, Hope and …
His book, Humankind: A Hopeful History
Asking the scientific questions and the philosophical questions
The opposing theories of basic human nature
Evolutionary biology and the survival of the friendliest
Collective intelligence is what makes humans special
The paradox of humans being the kindest and also the cruelest species
His rules for a realistic view of human nature: when in doubt, assume the best
The broken systems that are created for the small percentage rather than the largest percentage of people
Pygmalion effect is the power of expectations; we become what we think we will become
Important distinctions between empathy and compassion
Understanding that changing the world begins with changing ourselves
Rutger Bregman Links:
Facebook
Talkspace is the online therapy company that lets you connect with a licensed therapist from anywhere at any time at a fraction of the cost of traditional therapy. It's therapy on demand. Visit www.talkspace.com or download the app and enter Promo Code: WOLF to get $100 off your first month.
Ana Luisa Jewelry makes beautiful, high-quality, and sustainably crafted jewelry pieces that are also affordable! Visit analuisa.com/wolf and enter Promo code: WOLF for 10% off your purchase.
Relief band is the #1 FDA-cleared 100% drug-free anti-nausea wristband that has been clinically proven to relieve and effectively prevent nausea and vomiting associated with motion sickness, anxiety, migraines, hangovers, morning sickness, chemotherapy, and so much more. Go to www.reliefband.com and use promo code WOLF for 20% off plus free shipping and a 30 day money back guarantee.
If you enjoyed this conversation with Rutger Bregman on Human Nature and Hope, you might also enjoy these other episodes:
Deep Transformation with Spring Washam