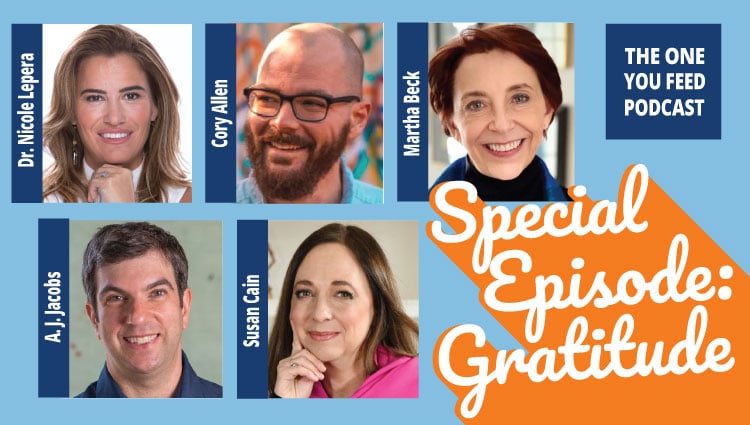 We are thrilled to welcome Dr. Nicole LePera, A.J. Jacobs, Martha Beck, Susan Cain and Cory Allen as our special guests on this "Thanksgiving" episode on gratitude!
Research from Harvard Medical School shows that "gratitude is strongly and consistently associated with greater happiness.  Gratitude helps people feel more positive emotions, relish good experiences, improve their health, deal with adversity, and build strong relationships. We know that it's good to give thanks but so many of us struggle to make it a regular practice and this episode will teach you how to do so and why it is worth prioritizing!
But wait, there's more! The episode is not quite over!! We continue the conversation and you can access this exclusive content right in your podcast player feed. Head over to our Patreon page and pledge to donate just $10 a month. It's that simple and we'll give you good stuff as a thank you!
Our Special Guests and I Discuss How to Practice Gratitude and …
Dr. Nicole LePera – how she defines gratitude and why it's important
How verbally stating or writing can activate feelings of appreciation
Our tendency to pay attention to what we lack rather than what we have
Shifting from "I have to" to "I am grateful for the opportunity"
A.J. Jacobs – how practicing gratitude is a way to not take things for granted
The hedonic treadmill and the "I'll be happy" when trap
His active practice of texting his mom every day what he's grateful for
How the more specific the better when it comes to expressing gratitude
Martha Beck – how she was impacted when she first read about the benefits of gratitude
How engaging in your senses is a good way to practice gratitude
Her 3:1 gratitude practice – for every negative experience, think of 3 positive ones
Reveling in what the soul yearns for sharpens a gratitude practice
Susan Cain – how she notices and savors beautiful things
How we need to both accept the beauty and the difficult realities of our existence
The best gateway to gratitude is discovering what elevates us
How she teaches her kids gratitude
Cory Allen – how what we associate with gratitude is what makes us feel grounded and safe
How he goes deeper into gratitude
How gratitude comes from being present and getting curious
The benefits of practice gratitude for its own sake
Links:
By purchasing products and/or services from our sponsors, you are helping to support The One You Feed and we greatly appreciate it. Thank you!
If you enjoyed this conversation on Gratitude, please check out these other episodes:
How to Make Life Easier with Greg McKeown