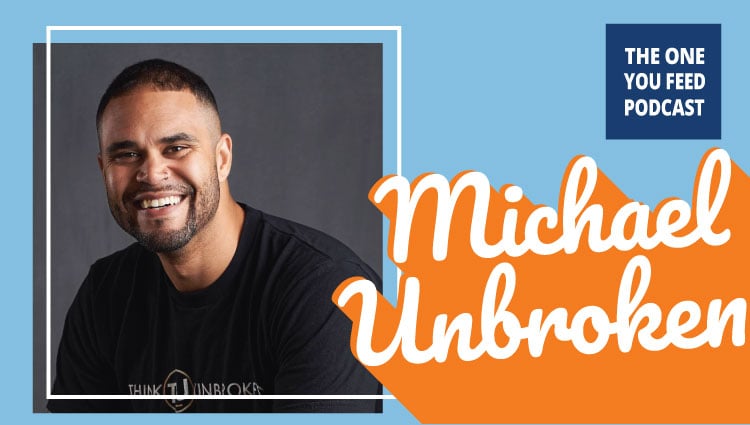 Michael Unbroken is an entrepreneur, best-selling author, coach, speaker, and advocate for survivors of childhood trauma. He is the host of The Think Unbroken Podcast that features experts, researchers, psychologists, therapists, and change-makers in the trauma and CPTSD healing space.
In this episode, Eric and Michael discuss his book, Think Unbroken: Understanding and Overcoming Childhood Trauma,
But wait, there's more! The episode is not quite over!! We continue the conversation and you can access this exclusive content right in your podcast player feed. Head over to our Patreon page and pledge to donate just $10 a month. It's that simple and we'll give you good stuff as a thank you!
Michael Unbroken and I Discuss How to Overcome Childhood Trauma and …
The day he decided to change his life and stop being the victim
Taking radical responsibility for who you are and your choices
How it takes doing difficult things to build confidence
When he realized he was letting himself down just as others had let him down
The greatest tool to have is the mindset of no excuses, just results
Learning to discover your identity after childhood trauma
The importance of writing down who you want to be
Gaining clarity on your values guides your choices
Challenging the narrative of who you believe you are
His willingness to try the many tools and modalities to see what worked for him
The benefits of hiring a coach in addition to therapy
The power of finding and being part of a community
Being kind to ourselves and learning from our mistakes
Michael Unbroken links:
By purchasing products and/or services from our sponsors, you are helping to support The One You Feed and we greatly appreciate it. Thank you!
If you enjoyed this conversation with Michael Unbroken, check out these other episodes:
Jonice Webb on Childhood Emotional Neglect